Pars is an Arial robot which is designed and made for saving human lives. The first purpose of building the robot is the relief of people drowning near coastlines. By developing its applications, it can be used in ships and off shore reliefs. I
Pars is an Arial robot which is designed and made for saving human
lives. The first purpose of building the robot is the relief of people
drowning near coastlines. By developing its applications, it can be
used in ships and off shore reliefs. It can also be used in other
applications such as monitoring of marine and off shore structures,
recording films and pictures from dangerous path ways for rescue
missions, precise positioning and monitoring of off shore disasters
and aid in firefighting.
The designed robot uses new technologies for guidance and navigation.
Some of the technologies used are artificial intelligence, sound and
image processing, autopilot search and rescue and a wide combination
of sensor technologies. The robot is very simple and also very
applicable and can play a significant role in saving the injured
people.
The Savior Arial robot is designed in a way that it can quickly move
towards drowning people by user guidance and activates its savior
system. This system releases life tubes for the drowning ones.
Considering that many people drown all over the world every year, this
robot can decreases the duration of rescue operations and save more
lives.
Applied Innovations in This Method:
1- The robot has the Ability to save more than one life
simultaneously at a mission; for example, if several people
simultaneously were sinking at the coast, this robot could send life
tubes to each one very quickly.
2- The robot is waterproof and it can land on the sea surface. When
the robot faces an accident or in low battery situations it lands on
sea, to not see more damage or sink.
3- So far 3 pads have been considered for the robot that gives it
the ability to save 3 lives in one operation; by using chemical
materials for bloating the life pads, the pads can be increased to
more than 15 in number.
4- The robot uses artificial intelligence for accurate analysis of
the condition it's in.
5- The robot is designed with a FLIR heating camera for recognizing
the injured ones at night and also uses LED lightening to be
recognized at night and activates its intelligence system when people
shout for help.
6- It is simply installed and applied in different parts related to
marine issues, from coastline to installation in the ships and oil
platforms.
7- The robot is controlled from a central control cabin. In ships
the robot has special platforms and is controlled from the ships
control cabin. In case of an accident there is no need for starting up
the robot, it launches from the applied platform and is always ready
for flying.
8- The robot can track its path by GPS positioning and at the end of
its mission it can come back home without the need of user guidance.
After returning, it lands on its platform and starts charging its
batteries.
9- A sea platform has also been designed for the robot. This platform
used satellite data for its control and it uses solar energy for its
energy. It is always in the water and the robots are ready for action.
When a marine incident occurs it quickly operates and sends the robots
to the event to help. (This platform is not for coast relief)
10- We have considered many designs for the robots future applications
including a robot manipulator and the ability to moving and install
savior cables and there connection to other places.
The robot is being developed and we are at the begging of our way. A
few tests have been done with one life pad connected to the robot to
see the stability and speed of the robot.
Please visit or weblog for pictures of the designed robot
http://rtslab.blog.com/research-projects
Featured Product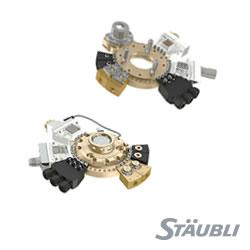 Stäubli is a pioneer in the construction and development of robotic tool changing systems. Our customers benefit from our many years of expertise in all industry sectors, as well as our modular product concept, which offers three efficient solution paths: MPS COMPLETE offers preconfigured robotic tool changers for immediate use. MPS MODULAR allows the user to determine the configuration, while MPS CUSTOMIZED allows the construction of special, application-specific systems.