IT-Supported Production Takes Center Stage; Largest Contingent of Russian Firms to Exhibit At An Industrial Technology Fair Outside of Russia
Hannover, Germany and Princeton, N.J - March 26, 2013 - When HANNOVER MESSE 2013 opens its gates on Monday, April 8, it will do so with more exhibitors and an unprecedented level of international participation. More than 50 percent of the companies represented at the fair are based outside of Germany. This year, IT-supported production - the next stage in the evolution of manufacturing - will take center stage.

"The outstanding number of exhibitor registrations and the high level of participation from international companies reflect a worldwide need to share information on the technologies that will shape the future of manufacturing. For many exhibitors, the current global economic environment is another strong reason to be at HANNOVER MESSE," said Dr. Jochen Köckler, a member of the Deutsche Messe Board of Management.
"While China has regained its economic momentum, and many developing countries are continuing on a steep growth trajectory, the situation in the Eurozone and the U.S. remains uncertain. That's why manufacturers have to be able to react quickly to shifts in demand. And to achieve this, they have to make their production facilities more flexible so that they can adapt or even completely change their product range in the shortest possible time. Many companies also need to look further afield to new countries to reduce their dependence on a narrow portfolio of existing markets. And that's exactly where HANNOVER MESSE can add a lot of value. HANNOVER MESSE is where manufacturers will find the right technologies and the right partners to help them reduce their risk exposure and build their competitiveness," Dr. Köckler added.
The lead theme of "Integrated Industry" signals HANNOVER MESSE's strong focus on the future of manufacturing. "We chose 'Integrated Industry' not just to highlight the increasingly close relationship between the fair's key display areas of automation, energy and drive technologies, industrial supply and R&D; the intention is also very much to herald the fact that information technology is about to kick off the next major wave of change in the evolution of manufacturing," explained Dr. Köckler. "Ever-shorter product lifecycles and ever-increasing product diversity mean that production lines need to become much more flexible. Most automobile manufacturers, for example, are already able to produce a number of different models on the same line. Having this sort of capability necessitates state-of-the-art software systems and web-based technologies."
Integrated Industry also stands for the networking of all machines involved in a production process. Doing this can potentially yield multiple benefits. The fully integrated production lines of the future will be less prone to stoppages; machines will be able to spot significant deviations from workpiece specifications; and the workpieces themselves will have a unique identifier, which "tells" the machines how they should be processed. This will enable the machine tools to reconfigure themselves automatically during production and continually adapt to changing demands without the need for halting the production line.
"Workpieces will effectively be communicating directly with the machine tools," said Dr. Köckler. "Put simply, Integrated Industry means that goods can be produced more quickly and cheaply and at a higher level of quality, thereby significantly boosting the long-term competitiveness of the manufacturer."
HANNOVER MESSE 2013 will be officially opened on April 8 by German Chancellor Angela Merkel and Russian President Vladimir Putin. As Russia is the official Partner Country of this year's fair, more than 160 Russian companies will be in Hannover to showcase their technologies and services. This is the largest-ever contingent of Russian firms to exhibit at an industrial technology fair outside of Russia. Also, 200 speakers and numerous high-caliber representatives of the Russian political and business communities will contribute to the fair and conferences.
In its role as a global leader in the energy sector, Russia will showcase its oil and gas industries. The focus will be on issues which are of central importance to the global industrial community - for example, energy efficiency, research, new materials and environmental protection. These issues will figure prominently in the exhibit lineup, as well as in the program of supporting events.
Additionally, Investment in Russia will play a prominent role. SBERBANK, for example, is sponsoring various events at HANNOVER MESSE, where it will have its own BizLounge. Numerous Russian regions and municipalities also will be represented at HANNOVER MESSE. For example, Moscow and Saint Petersburg will showcase infrastructure concepts and solutions designed to promote the development of Russia's rapidly expanding urban areas.
"Russia is the ideal choice as Partner Country for HANNOVER MESSE 2013. Last year, German-Russian trade hit a new high of 80 billion euros. This year, I expect that small and medium-sized high-tech companies, in particular, will start to benefit from the new opportunities created by Russia's accession to the WTO. And Hannover may well be the place where they meet the right Russian partners," said Dr. Köckler.
The open-air site and all 25 exhibition halls are fully booked. A total of around 6,500 exhibitors will be in Hannover to showcase their solutions on more than 2.54 million square feet of net display space, representing an increase in exhibitor numbers and display space from 2011, the strongest HANNOVER MESSE in ten years. The strongest exhibitor representative nations are China, France, Germany, Italy, Russia and Turkey. The fair will feature close to the same number of Italian and Spanish firms as in 2011.
"A Spanish exhibitor recently told me that he couldn't afford to miss the fair because he had lost 80 percent of his domestic customers. At HANNOVER MESSE, he would be able to meet new customers groups and develop new markets. And that's exactly what HANNOVER MESSE is all about. It's the perfect platform for forging and developing new international contacts," said Dr. Köckler.
About HANNOVER MESSE (the Hannover Fair)
The world's leading showcase for industrial technology is staged annually in Hannover, Germany. The next HANNOVER MESSE will be held from 8 to 12 April 2013 and feature Russia as its official Partner Country. HANNOVER MESSE 2013 will comprise 11 flagship fairs: Industrial Automation • Motion, Drive & Automation (MDA) • Energy • Wind • MobiliTec • Digital Factory • ComVac • Industrial Supply • IndustrialGreenTec • Surface Technology • Research & Technology. The upcoming event will place a strong emphasis on industrial automation and IT, energy and environmental technologies, power transmission and control, industrial subcontracting, manufacturing technologies, services and R&D.
About Hannover Fairs USA
Hannover Fairs USA (HFUSA) provides global fair exhibitors lead generation and product launch support across target buyers and distribution networks worldwide. HFUSA works closely with exhibitors to help them maintain their competitive position on and off the show floor and to connect with a broad range of new market audiences. For more information, go to www.hfusa.com.
Featured Product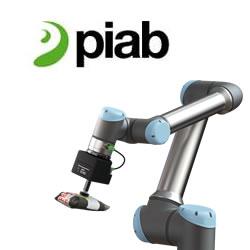 Piab's Kenos KCS gripper enables a collaborative robot to handle just about anything at any time. Combining Piab's proprietary air-driven COAX vacuum technology with an easily replaceable technical foam that molds itself around any surface or shape, the gripper can be used to safely grip, lift and handle any object. Standard interface (ISO) adapters enable the whole unit to be attached to any cobot type on the market with a body made in a lightweight 3D printed material. Approved by Universal Robots as a UR+ end effector.