Will highlight U.S. companies whose robots and systems are changing the face of hospitals, farms, factories, offices, warehouses, and other work environments.
MENLO PARK, Calif. - March 27, 2013 - Leading thinkers and innovators will gather to explore how robots are transforming the economy at Xconomy's Robots Remake the Workplace, a half-day forum on Thursday, April 11 from 1:00 - 6:30 pm at SRI International's headquarters in Menlo Park, California.

The forum will highlight U.S. companies whose robots and systems are changing the face of hospitals, farms, factories, offices, warehouses, and other work environments. Held during National Robotics Week, this public forum will bring together executives, engineers, entrepreneurs, investors, and others to explore opportunities in the emerging robotics revolution.
With a flood of recent news stories presenting robots as job destroyers, Xconomy Chief Correspondent and San Francisco editor Wade Roush is looking forward to exploring other points of view.
"We're on the cusp of a huge shift in the way we work, a shift with the potential to be just as productivity-boosting as the integration of the personal computer," Roush said. "On April 11 we'll have a chance to talk with a number of leading entrepreneurs and innovators about how they see robots playing a role in the workplace in the future."
The event will feature a mixture of panels, presentations, and demos. Following a welcome from Roush and SRI President and CEO Curtis R. Carlson, MIT roboticist Rodney Brooks will start the program with a keynote on his new company Rethink Robotics, which is building low-cost adaptive robots for manufacturing and material handling.
Aldo Zini of Aethon and Chris Anderson of 3D Robotics will also present keynotes later in the afternoon. Zini's address will focus on how Aethon's TUG robotic delivery system is improving safety, efficiency, and productivity in hospitals, while Anderson, former editor of Wired, author of the new book Makers: The New Industrial Revolution, and founder of DIY Drones, will discuss the DIY movement in robotics.
Panels will focus on robots and jobs, telepresence robots in the office, robots in unconventional workplaces, and the venture investment scene. Panelists include Rich Mahoney, director of robotics at SRI and president of Silicon Valley Robotics; Keller Rinaudo, founder and CEO of Romotive; Jeff Linnell, CEO of Bot & Dolly; and Steve Jurvetson, managing director of Draper Fisher Jurvetson, to name just a few.
"SRI and other organizations are creating a range of technologies to seed early-stage robotics companies," said Mahoney. "One challenge is to find the right entrepreneurial talent to drive these companies and new market. The Xconomy robotics forum is an important venue for sparking connections and building relationships."
An event highlight will be a demo of the RP-VITA, a remote presence robot that iRobot and InTouch Health believe will change the way health care is delivered. InTouch Health CEO Yulun Wang will present live at the event, with iRobot co-founder and CEO Colin Angle participating remotely through the RP-VITA.
The forum is hosted by SRI International and sponsored by Silicon Valley Bank. More details, including registration information, can be found at xconomyforum59.eventbrite.com.
About Xconomy
Xconomy is a news and events organization dedicated to providing timely, insightful, close-to-the-scene information about the business of technology. Xconomy is staffed by world-class journalists and supported by "the Xconomists," who include nearly 300 of the country's leading innovators. Based in Cambridge, MA, Xconomy covers Boston, Detroit, New York, San Diego, San Francisco, and Seattle.
Featured Product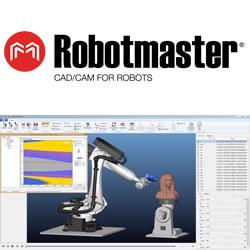 Since Robotmaster V7 uses integrated CAD/CAM functionality, for the first time, the power of Robotmaster can be used by welding, cutting and other process experts without buying or learning complex CAD/CAM software. As in past versions, Robotmaster V7 imports paths, but now makes it even easier for end users to leverage any CAD/CAM tool choice. It is an intuitive tool that anyone could use, with or without robotics expertise. It bridges the gap between robots and manufacturing by providing easy programming solutions for part manufacturing.