The pocket-size MGW Pico Encoder features superb HD compression, low latency streaming and metadata handling for IPTV and ISR applications. The appliance has no moving parts and requires less than 5 Watts to deliver HD Full Motion Video over IP.
SUNNYVALE, Calif.--VITEC, a worldwide leader in advanced video solutions, today announced the availability of MGW Pico -world's smallest professional-grade H.264 High Definition and Standard Definition encoding and streaming appliance. The MGW Pico extends the award-winning family of Optibase MGW Portable Encoders and offers high quality HD video encoding with record-breaking minimal footprint and lowest power consumption requirement for 1080p HD-SDI video compression hardware.

State-of-the-art hardware architecture eliminates moving parts with a fanless, 100% silent, durable platform requiring less than 5 Watts to operate, making it the ideal HD codec for extreme Full Motion Video (FMV) applications in the Military, Broadcast and Enterprise environments.
"VITEC is very unique player in the encoding and streaming space as we develop and control 100% of the software and hardware in our products," said Philippe WETZEL, CEO of VITEC. "We've worked extremely hard to design MGW Pico and incorporate a great deal of video innovation and IPTV capabilities into a pocket-size appliance. We're very proud of our latest achievement and are confident this revolutionary product will follow the great success we've had with MGW Premium and MGW Nano in the portable, low latency streaming appliances space."
"MGW Pico is a game-changing platform," said Eli Garten, VP of Product Management for VITEC. "Whether used at the field with a battery pack, or integrated into an unmanned airborne vehicle (UAV) or mounted in a car - MGW Pico's size, weight and low power consumption mean less invasive integration when adding a codec and an ability to rapidly deploy real-time IPTV and FMV services anywhere, anytime including in places where the competition is either too big, too heavy or requires too much power."
About VITEC
VITEC is a worldwide leading provider of powerful digital video products that support end-to-end media solutions for Broadcast, Corporate, Education, Government, Industrial, Medical, Military, and Telco customers. By integrating world famous brands including Optibase, Focus, Proxsys, Monisys, Stradis, Extensor, and Sylon, VITEC now controls the complete video chain with professional-grade products for acquisition, encoding, processing, management, and delivery.
VITEC www.vitecmm.com
Featured Product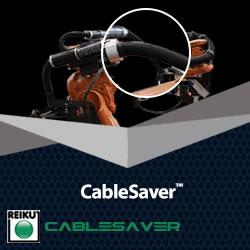 REIKU's Cable Saver™ Solution eliminates downtime, loss of revenue, expensive cable and hose replacement costs, maintenance labour costs. It's available in three sizes 36, 52 and 70 mm. All of the robots cables and hoses are protected when routed through the Cable Saver™ corrugated tubing. The Cable Saver™ uses a spring retraction system housed inside the Energy Tube™ to keep this service loop out of harms way in safe location at the rear of the Robot when not required. The Cable Saver™ is a COMPLETE solution for any make or model of robot. It installs quickly-on either side of the robot and has been tested to resist over 15 million repetitive cycles.