AUVSI's new economic report notes that 80 percent of new, high-paying jobs created by the integration of unmanned aircraft into the National Airspace System would go to precision agriculture.
Efficiency is one of the key attributes that unmanned systems can bring to the world of agriculture by making it easier to care for crops, monitor them and keep them free from pests and disease.

That was the message from the speakers at the AUVSI Atlanta Chapter Unmanned Systems in Agriculture Conference being held 28-29 March in Tifton, Ga.
Reza Ehsani detailed his studies in using small quadrotor UAS to take high-resolution photos to aid in monitoring crops, detecting diseases and managing inventory.
Similar images could be obtained with manned aircraft but they are much more expensive to operate and they can't fly as low as UAS, so the imagery isn't as high resolution.
He has been using a German-built Microcopter quadrotor carrying a suite of cameras, including a hyperspectral camera that makes it easier to detect areas of a crop that are suffering from disease or a lack of water.
Ehsani said he has been talking to growers about the systems, and they are enthusiastic.
Unmanned systems have "a lot of potential, a lot of applications in agriculture," he said. Growers "think it's a great thing, and when growers like something, that's really good."
To be more widespread, however, the systems need to be cheaper, the sensors better, and the rules and regulations more clear.
Ehsani outlined how unmanned aircraft could help detect huanglongbing, or HLB, a disease that has had a $1.3 billion impact on the citrus market in Florida, costing 6,000 jobs, and "has the potential to wipe out the citrus industry in Florida."
Rooting out such pathogens is also the focus of the work of Garry McMurray of the Georgia Tech Research Institute. He is trying to develop sensors to detect peach tree root rot, which can infect and wipe out entire tree fields.
He is working to combine a sensor that can detect the signature of the pathogen with hyperspectral imagers and 3-D sensors. One key component would be a gas chromatograph the size of a credit card.
The ultimate goal is to be able to say, "This plant is stick, and it's sick with this disease, and it really needs to be sprayed." This would allow targeted intervention. "That's really where we are trying to get to with this work," he said.
The economic repercussions are not small. AUVSI's new economic report notes that 80 percent of new, high-paying jobs created by the integration of unmanned aircraft into the National Airspace System would go to precision agriculture.
Having some of those systems able to help eradicate disease would save billions. McMurray noted that even though "we're one of the most heavily sprayed farm areas in the world … we still lose 12 percent of our crops to disease and pests, each."
Georgia alone banks heavily on agriculture, noted Kent Wolfe, director of the state's Center for Agribusiness and Economic Development. Each year, the state produces enough peanuts to make 15 billion peanut butter sandwiches, enough cows to make 800 million hamburgers, enough eggs to feed every Georgian one egg a day for a year and enough pecans to make 150 million pecan pies.
Regulation and Public Opinion
Rep. Austin Scott (R-Ga.), who represents Georgia's 8th District, spoke at the lunch on the first day of the conference and said unmanned systems have the potential to be as revolutionary as the smartphone, as long as they aren't over regulated in the early years of the commercial industry.
"I think that's probably the path that we'll see with the use of drones, particularly with agriculture.
"One of my concerns with the drone technology is as we move forward with the technology … we need to make sure that we do not hinder the development of this new technology by being over burdensome to the industry with it," Scott said.
However, he said public fears and privacy concerns also must be addressed. He has introduced legislation that would require a court order before police could use UAS, but said he's open to a dialogue with industry.
Featured Product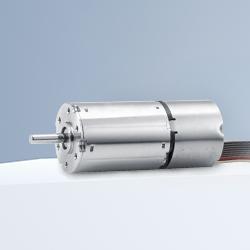 FAULHABER MICROMO launches the new MC3/MCS motion control family. The new high performance, intelligent controllers are optimized for use with FAULHABER motors, offer electronics for simple operation with state-of-the-art interfaces for multi-axis applications, and provide a motion control system solution with the most compact integration into industrial grade housing.