World Surveillance Group Inc., a developer of lighter-than-air aerostats and unmanned aerial systems ("UAS"), today announced that it has completed the acquisition of Lighter Than Air Systems Corp. ("LTAS"). LTAS is expected to continue to generate revenues based on a robust pipeline in the surveillance and security sector.
The acquisition will immediately provide technical and operational support to WSGI for the recently awarded contract from the U.S. Department of Defense for a set of Blimp in a Box ™ aerostat systems. The purchase price paid by WSGI for LTAS consists of: $250,000 in cash, payable 30 days after the closing of the acquisition, 25,000,000 shares of the Company's common stock, and an earn-out equal to varying percentages of gross revenues based on the level of revenue from contracts with an identified group of potential customers.

Formed in 2009, LTAS develops and sells advanced surveillance solutions including aerial and land based systems to U.S. and international governments and commercial customers. Currently fielded LTAS systems include advanced tactical aerostat systems and various land based systems using telescoping and pneumatic masts and poles. LTAS is currently providing systems for various government evaluation programs intent on supporting the warfighter and improving their field capabilities.
WSGI President and CEO Glenn Estrella stated, "We are confident the acquisition of LTAS will improve our position as a leader in the tactical aerostat market and allow us to further enhance our Blimp in a Box aerostat system. The acquisition is another significant step in the Company's overall strategic plan, and for the first time, WSGI will have in-house technical expertise and operational capabilities. We are focused on the revenue generation potential of the combined company given LTAS' existing government and commercial customer relationships and new product offerings. Furthermore, with the integration of our subsidiary Global Telesat's satellite based capabilities, we can aggressively market our tactical surveillance systems to the growing global customer base demanding low cost, persistent ISR."
LTAS will operate as a wholly owned subsidiary of WSGI and retain its staff and office in Jacksonville, FL. For additional information on LTAS, please visit www.LTAScorp.com.
Featured Product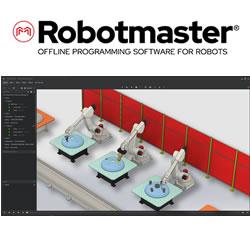 Robotmaster delivers unmatched, full-function off-line programming capability for robots - easy programming of precise robot motion control and quick generation of path trajectories of any size, with minimal programmer intervention. Our strong background in CAD/CAM (Computer Aided Manufacturing) software has enabled us to bring a revolutionary approach to programming industrial robots.