Ittiam to showcase its full HD (1080p 60fps) low latency streaming system on the DaVinci™ TMS320DM8169 video processor platform from Texas Instruments
Ittiam announces its latest low latency server-client streaming solution, which delivers high quality, full HD video (1080p60) at less than 70 milliseconds and less than 60 milliseconds for 720p60 video. The ultra-low latencies achieved will further enhance the response time for real-time interactive applications. Ittiam's low latency video streaming solution has been adopted across broadcasting, industrial and defense applications. Ittiam's latest low latency streaming solution benefits from patent-pending optimization techniques across multiple components including drivers, codecs and media framework in both the server and the client. One key innovation is optimization for slice-based processing across both hardware and software, which has significantly reduced overall latencies in both the server and the client. Latency-critical applications such as KVM over IP and vision-guided systems in industrial and defense applications will greatly benefit from this solution.

The solution can be tuned for deployment in different wireless networks or best-effort networks, making it adoptable even in portable devices, remotely operated vehicles such as unmanned aerial / ground vehicles, underwater operated robots, remote bomb detonators, etc.
Ittiam also offers a low latency HD media player on Android™ for mobile devices. This allows delivery of low latency video directly onto screens of mobile devices, which enables a new class of networked video applications using hand-held devices and thin clients such as cloud gaming.
"Ittiam's understanding of multimedia streaming technology has enabled it to identify and implement enhancements that have enabled further reduction of latencies. With its latest solution, Ittiam brings together high quality video and low latencies, setting the stage for a wider adoption of low latency streaming," said Bhavani Gopalakrishna Rao, Senior Manager Video Networking Systems." Ittiam's solution, based on programmable DSPs such as the DaVinci DM8169 video processor from Texas Instruments Incorporated (TI), retains flexibility while providing low video processing and delivery latency - the best of both worlds. Ittiam's low latency streaming systems have already been deployed in latency-critical applications, including live communication, video surveillance, UAV navigation, interactive multimedia applications, collaborative medical devices and custom government and defense applications."
The low latency streaming solution is available as an SDK with a reference application for Android™ and Linux™ that can be integrated into custom applications to enable low latency video streaming. Ittiam also offers a turnkey low latency streaming solution complete with codecs, media framework, application, board support package (BSP) and ready-to-manufacture hardware design license.
Ittiam's low latency streaming solution is available on a programmable system-on-chip (SoC) such as TI's DaVinci DM8169 video processor. Unlike ASIC-based implementations, the programmable system provides greater flexibility in adapting the video for application-specific use cases along with other differentiating algorithms.
Salient features of the low latency solution on TI's DaVinci DM816x video processor platform include:
*Full HD (1080p60fps) low latency streaming Multi-screen encoding
*Encryption for secure streaming , digital signatures for detecting video tampering
Demonstration of the low latency streaming solution on TI's DaVinci DM8169 video processor platform will be showcased at the Ittiam booth in the South Hall (SU11414) of the Las Vegas Convention Center at the NAB Show 2013, Las Vegas from 8 April to 11 April 2013.
For more information on technical details or to receive the demonstration package, visit the Ittiam website at www.ittiam.com or contact us at mkt@ittiam.com. To schedule a meeting at NAB Show 2013, please contact us at nab2013@ittiam.com.
About the Texas Instruments Design Network
Ittiam Systems is a member of the TI Design Network, a premier group of independent, well-established companies that offer products and system-level design and manufacturing services complementing TI's semiconductors to a worldwide customer base to accelerate product innovation and time-to-market. Network members provide product design, hardware and software system integration, turnkey product design, RF and processor system modules, reference platforms, software development, proof-of-concept design, feasibility studies, research, certification compliance, prototyping, manufacturing, and product life cycle management. For more information about the TI Design Network, please visit http://www.ti.com/designnetwork.
About Ittiam Systems Private Limited
Ittiam Systems Private Limited, headquartered in Bangalore, India, is a technology company singularly focused on embedded media centric systems. It operates through its network of offices and representatives around the world. Ittiam's customers include Fortune 100 companies and are distributed across U.S., Europe, Japan and Asia. Since 2004 the company has been consistently rated as the "World's Most Preferred DSP IP Supplier" in the annual surveys conducted by Forward Concepts Incorporated. In 2005 Ittiam had been selected by Red Herring into the top 100 private companies in Asia. In February 2007, Ittiam received the NASSCOM India IT Innovation Award, a prestigious recognition. In July 2011 Ittiam's VC won the Product of the Year 2010 from Communications Solutions. In January 2012 Ittiam won two Product of the Year 2011 awards from Internet Telephony. Embedding Ittiam IP inside, annual volume of customers' products shipped such as Smartphones, Tablets, Broadcast, Video Communication and Wi-Fi Devices is in several tens of millions units
Featured Product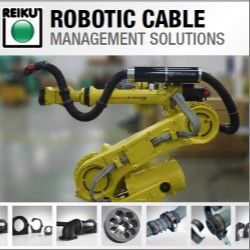 REIKU's Cable Saver™ Solution eliminates downtime, loss of revenue, expensive cable and hose replacement costs, maintenance labour costs. It's available in three sizes 36, 52 and 70 mm. All of the robots cables and hoses are protected when routed through the Cable Saver™ corrugated tubing. The Cable Saver™ uses a spring retraction system housed inside the Energy Tube™ to keep this service loop out of harms way in safe location at the rear of the Robot when not required. The Cable Saver™ is a COMPLETE solution for any make or model of robot. It installs quickly-on either side of the robot and has been tested to resist over 15 million repetitive cycles.