The first product now available in the DWF Products line is the M1500™ Micro Fastener System
WILSONVILLE, Ore., March 20, 2013 -- DWFritz Automation Inc., headquartered in Wilsonville, Ore., today announced a new division of the company named DWF Products™. DWF Products was created to serve advanced manufacturing businesses with standardized assembly and automation equipment.

"We've created this new business unit to showcase and deliver our precision technologies to volume-based automation and manufacturing customers who demand brilliant, value-based solutions," said Jake VanderZanden , Vice President of Corporate Development, DWFritz Automation. "We have a strong product roadmap and expect significant growth in the next several years."
The first product now available in the DWF Products line is the M1500™ Micro Fastener System, a product developed for the consumer electronics manufacturing industry to automatically insert PennEngineering's microPEM® self-clinching TackPin™ fasteners as an alternative to screws or spot welds. DWFritz Automation partnered with PennEngineering in Danboro, Pa., to create this elegant solution for makers of phones, tablets, keyboards and related goods who want thinner, more cost-effective products.
The two companies are jointly traveling the world demonstrating the capabilities the M1500 and advantages of microPEM fasteners. "Our partnership with DWFritz is a significant development in making our microPEM fastener technology a better, more viable solution for industry," said Christopher Marx , Corporate Vice President Global Sales & Marketing, PennEngineering. More information about PennEngineering is available at www.pemnet.com.
The M1500 Micro Fastener System features a custom micro fastener handling and loading system, a servo-controlled press with insertion force feedback, and SplitVis™ technology to assist in placement of the TackPin fasteners in the product, allowing for variable distances or thicknesses. The M1500 has a throughput of greater than 30 placements per minute with an accuracy of +/- 50 microns. For detailed specifications, visit DWFproducts.com.
This system is used for assembly of small electronic devices ranging from the size of a standard cell phone to a 15" laptop computer. The use of microPEM fasteners offers many advantages over traditional attachment methods, including a significantly lower unit cost, better speed and accuracy and less scrap created from error.
About DWFritz Automation
DWFritz Automation, a leading provider of precision automation solutions since 1973, develops, designs, builds and supports engineered-to-order automation systems, specializing in precision inspection and assembly equipment using intelligent motion control, vision and robotics. DWFritz Automation serves global customers in advanced manufacturing and is located at 27200 SW Parkway Avenue, Wilsonville, Ore., 97070. For more information, visit DWFritz.com.
Featured Product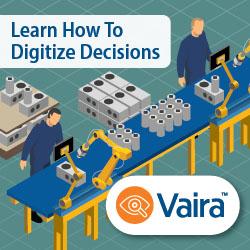 Pleora's AI Gateway provides a hybrid approach that allows system designers, integrators, and end-users to add more advanced AI capabilities alongside existing sensor sources and classic computer vision algorithms.