This new servo delivers safe-off capabilities for faster machine restart and shorter machine downtime. The flexibility of this networked drive makes it an ideal choice for machine builders looking for a competitive edge.
Hauppauge, NY April 04, 2013

The new Festo CMMP-AS-M3 servo drive offers Ethernet IP, ProfiNet, EtherCat, Profibus, and DeviceNet networkability. The drive comes with optional slide in network cards for all supported networks, which allows OEMs to customize the drive to meet their application needs and enables easy integration with both Rockwell and Siemens control architectures.
The CMMP-AS-M3 servo drive offers an optional slide card with Safe Torque Off (STO) functionality for increased productivity and personnel safety. With the safe-off capability, tasks such as machine setup, cleaning, removal of jams and other typical maintenance work that previously required power-down conditions can now be accomplished without removing power from the entire machine. Instead, drive output can be safely disabled, allowing faster machine restart and shorter machine downtime. In addition, components such as input contactors are not required, simplifying machine design and helping reduce both panel space requirements and overall system costs.
With the available voltage and power ranges (single and three phase), the CMMP-AS-M3 servo drive meets a wide range of global machine requirements, including applications in the packaging, automotive, alternative energy, manufacturing, and assembly industries.
By combining the CMMP-AS-M3 servo drive with the Festo EMMS-AS servo motor series, which in turn seamlessly integrates mechanically with a broad range of Festo electromechanical actuators, Festo delivers a broad spectrum of complete motion solutions.
In addition to being integrated with a Festo motion controller via the built in CAN interface, the CMMP-AS-M3 drive can also work with the Rockwell Automation Integrated Architecture system via Ethernet IP for point-to-point handling systems.
Drive configuration and diagnostics are facilitated through the integrated Ethernet interface (TCP/IP). This allows for both direct and remote drive access (single or multiple drive systems). An SD memory card for storing and loading parameter settings facilitates trouble-free device replacement without commissioning procedure. Furthermore, the SD memory card can be used to duplicate settings for high volume production of machines and restoring drive configurations.
For more information about the CMMP-AS-M3 servo drive, call Festo at 800-993-3786 and visit http://www.festo.com/us.
About Festo
Festo is a leading manufacturer of pneumatic and electromechanical systems, components, and controls for process and industrial automation. For more than 40 years, Festo Corporation has continuously elevated the state of manufacturing with innovations and optimized motion control solutions that deliver higher performing, more profitable automated manufacturing and processing equipment.
Featured Product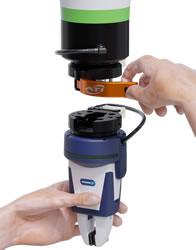 Simpler, stronger, and more precise. ATI Industrial Automation has developed a series of Manual Tool Changers that provides a cost-effective solution for quickly changing tools by hand. They feature a unique design that combines high strength, excellent repeatability, and a patent-pending screw-cam locking mechanism with multiple fail-safe features, which resists vibration and prevents loosening. These robust and compact Manual Tool Changers can handle payloads up to 80 pounds (36 kg) and pass pneumatics and electrical signals.