Hoverfly Technologies Offering Flight School for Aerial Robot Operators
ORLANDO, Fla., April 4, 2013 -- After a positive meeting with the Federal Aviation Administration (FAA), the entrepreneurs behind Hoverfly Technologies are moving forward to create a new industry association and a Flight School certification program for aerial robot operators across the nation.

Hoverfly, which develops remotely piloted aerial robots that enable nearly hands-free flight and effortless video capture in the air, met with Michael K. Wilson , Southern Region Program Manager for Unmanned Aircraft Systems at the FAA, on March 25.
A major function of the FAA includes regulating commuter and commercial aviation. While there is not a specific rule in place that prohibits the commercial use of aerial robots, it is currently not the policy of the FAA to authorize the use of such robots.
"At the FAA, we are passionate about the aviation industry. We understand that the future holds many opportunities for the commercial use of unmanned aircraft systems. Following safety standards will be critical to their acceptance," Wilson said.
During the meeting, it became evident that an industry standard for operations safety needed to be established before Hoverfly could move forward in creating a new Flight School. In response, Hoverfly reached out to community and other industry leaders and formed a group to establish a new industry association - the Aerial Robotics Industry Association (ARIA).
"ARIA's mission is similar to the FAA's mission - to strive to reach the next level of safety, efficiency, and global leadership in the aerial industry," explained Al Ducharme , a founder of Hoverfly Technologies and associate professor in the College of Engineering and Computer Science at the University of Central Florida (UCF).
ARIA's goal is to set the standards for the safe operation of aerial robotics for commercial use, and thereby advance the growing community of professional pilots. ARIA will set safety standards, and certifications will be granted by ARIA for flight schools around the country.
"We had a very positive meeting with the FAA, and as a result, we are moving forward with the Flight School," Ducharme said. "The FAA is accepting of our entrepreneurial efforts. We are proactively seeking their guidance to help us abide by their rules."
Hoverfly Technologies will be starting its own ARIA-certified Flight School immediately. Instruction will focus on safe operation of aerial robotics and will be based on the ARIA "FlySafe" standard.
Hoverfly gained international coverage after footage and images of its robot demonstration for the Golf Channel at the PGA Arnold Palmer Bay Hill Classic went viral. Now, the company is working quickly to ensure that the aerial robot association, ARIA, and the Flight School will launch in time for the National Association of Broadcasters (NAB) Conference in Las Vegas in early April.
The inaugural meeting of ARIA will take place in May in concert with the first Flysafe Flight School class May 17-19, 2013. To register and become a member of ARIA, visit www.joinaria.org.
About Hoverfly Technologies
Hoverfly Technologies designs and builds groundbreaking aerial robot systems. The company's film robots help photographers find innovative ways to produce aerial footage, and its industrial and public safety robots help protect people and property. Hoverfly's commercial and public safety robots feature Hovercore™, Hoverfly's proprietary flight control system technology incorporating advanced concepts in aerial flight stability, communications, and safety intelligence.
The Hoverfly ERISTA™ systems carry the latest generation of digital film cameras weighing up to 20lbs, and feature the industry's most advanced 3-axis gimbal stabilization system. The Hoverfly HELO™ public safety robot delivers both infrared and visible video, weighs 4.4lbs, and can be flown for 30 minutes. The HELO save lives by providing rapid situational awareness and is the only aerial robot available that integrates with next generation 9-1-1 systems in the US. Hoverfly inspires creativity, explores the earth, and protects people. Based in Winter Springs, Florida, USA, Hoverfly markets its products online and through a distribution network in over 30 countries. For more information about Hoverfly, please visit http://www.hoverflytech.com.
Featured Product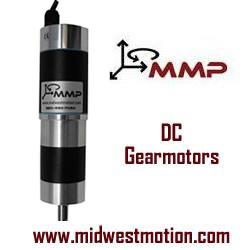 Midwest Motion Products, Inc. (MMP), is a well-established, healthy, & growing Family Owned Business, founded in 2001. MMP specializes in cost-effective standard DC Gearmotors, Motors, Controls, and ancillary equipment. Known world-wide for our "Lightning Fast" delivery capabilities, you can have a Standard Planetary or Right Angled DC Gearmotor BUILT and SHIPPED, often on the very same day you call. Offering Brushed and Brushless designs, with winding voltages ranging from 12 VDC to 120 VDC, we can deliver your "Robust & Reliable" samples within HOURS, instead of weeks, or even months.