Murata will Demonstrate Advanced Technology to Promote STEM Education
KYOTO, Japan--Murata Manufacturing Co., Ltd. (TOKYO:6981)(ISIN:JP3914400001) today announced that Murata Electronics, its wholly owned subsidiary will exhibit MURATA BOY, the bicycling robot that showcases Murata's innovative technologies, at the Museum of Science and Industry, Chicago, during National Robotics Week. MURATA BOY is scheduled to attend on April 5th and 6th and provide public demonstrations of his balancing and bike riding skills. He will also provide a comprehensive, behind the scenes look at the advanced components that make MURATA BOY, as well as many of the today's electronics, possible.

In addition to the hands-on demonstrations and in-depth presentations, Murata made a donation to the Museum's Science Minors program to support Science, Technology, Engineering and Mathematics (STEM) education. Science Minors is a youth development program that helps teens learn about science, meet science professionals and conduct experiments with Museum guests while fulfilling service-learning hours.
"Murata is pleased to participate in National Robotics Week as it is a fun and creative way to demonstrate our products," said Jerry Kolbe, Director of Technology Marketing for Murata Americas. "We are excited that MURATA BOY can spark enthusiasm in students and inspire more kids to take an active interest in science and technology."
"Being able to showcase something as unique as MURATA BOY as part of our weeklong robotics activities will inspire people to think about robots in ways beyond factory automation and exploration," said the Museum of Science and Industry's Director of Exhibit Development, John Beckman. "We hope kids and adults alike will get inspired by this technology and what it may mean for the future."
MURATA BOY, while only 50cm tall, is packed with high performance electronic components including ultrasonic, shock and gyro sensors, Bluetooth® modules, and DC-DC converters. The exact same components found in MURATA BOY are also used in cell phones, cars, televisions and computers, among other items people use every day.
For additional information on MURATA BOY, and his cousin, unicycling MURATA GIRL, visit http://www.murata.com/corporate/boy_girl/boy/index.html. For more details on the events planned for National Robotics Week at the Museum of Industry and Science, Chicago, view: http://www.msichicago.org/whats-here/events/national-robotics-week/.
About Murata Americas (www.murataamericas.com)
Murata Americas is the group of Murata companies located in North and South America. The regional HQ of Murata Americas is Murata Electronics North America, Inc., a wholly owned subsidiary of Murata Manufacturing Co., Ltd., whose global headquarters are in Kyoto, Japan. Established in 1944, Murata Manufacturing is a worldwide leader in research, design, manufacture and sale of ceramic based passive electronic components, power supply and wireless module solutions. With annual revenues in excess of $7 billion dollars, Murata is committed to the environmentally conscious development and stable supply of advanced electronic materials, leading edge electronic components, and multi-functional, high-density modules. Products include: monolithic ceramic capacitors, polymer aluminum electrolytic capacitors, electrical double-layer capacitor (EDLC), noise suppression products/EMI suppression filters, inductors, resistor products, resonators, filters, RF components, communication and wireless module solutions, sensors, thermistors, DC-DC converters, AC-DC power supplies, sound components, piezo actuators, micromechatronics products, ceramic applied products, and RFID solutions. Murata's products are found in a wide range of applications including consumer, mobile communications, computers and networking equipment, automotive electronics, advanced metering equipment, digital home electronics, lighting and illumination, and healthcare devices. Murata has employees and manufacturing facilities throughout the world.
Featured Product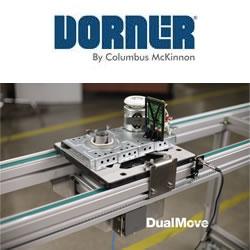 Dorner's 2200 Series Precision Move Pallet Systems are ideal for assembly automation. With features such as an innovative timing belt conveyor design and industry best pallet transfers, they get your product to the exact location, at the exact time and in the exact position it needs to be. They are now available with new options such as heavy load corner modules with 150 lb. capacity and 180 degree tight transfer corners for compact loops.