New ePLC Robots Programmed by Customer's Existing PLCs Allow Users to Quickly, Easily and Inexpensively Program Robots
Adept Technology, Inc. (Nasdaq:ADEP), a leading provider of intelligent robots and autonomous mobile solutions, today announced the development of its ePLC line of PLC programmable robots. The new ePLC robots will include new versions of the company's Cobra, Quattro, and Viper robots.

The robots will interface directly with customer's existing PLC controllers including controllers manufactured by Allen Bradley and Siemens. Deploying robots using the customer's existing PLC controllers allows operators to quickly, easily and inexpensively deploy the robots without the need to learn a new programming language. Adept robots and information on the new ePLC robots will be featured at the Hannover Messe Fair in Hannover, Germany April 8-12 in hall 17, stand F41.
"In order to remain competitive, manufacturers are looking to replace hard automation or overseas hand production. Robot-driven flexible work cells help to achieve lean manufacturing objectives however adoption has been hampered by the need to learn a new programming language," explains Rob Cain, president and CEO of Adept Technology. "By using Adept ePLC robots and in-house PLC programming skills, customers are able to quickly develop and deploy solutions that solves their problems today and future-proofs their manufacturing lines going forward."
"Using the Adept solution has made our job much simpler," said Richard Bahr, president and CEO of MGS Machine Corporation a leading robot system integrator. "We are able to program the robot in ladder logic then create libraries of code that are easily re-deployable. This makes our next project even easier to do. We have developed our code to a point where the robot can be added to any one of our machines and be functioning in a matter of hours."
The company plans to initially introduce its Cobra ePLC robot line with the Cobra ePLC600 and Cobra ePLC800 models followed by ePLC Quattro, and Viper models. Adept's Cobra SCARA robots are ideal applications that require fast and precise automation and the Adept Python linear modules are robust modules for gantry or cantilever configurations. The Adept Quattro robot is the only parallel robot (or "delta robot") in the world that features a patented four-arm design, advanced control algorithms, and large work envelope. The company's Viper™ line are high-performance articulated robots designed specifically for assembly applications.
About Adept Technology, Inc.
Adept is a global, leading provider of intelligent robots and autonomous mobile solutions that enable customers to achieve precision, speed, quality and productivity in their assembly, handling, packaging, testing, and logistical processes. With a comprehensive portfolio of high-performance motion controllers, application development software, vision-guidance technology and high-reliability robot mechanisms with autonomous capabilities, Adept provides specialized, cost-effective robotics systems and services to high-growth markets including Packaging, Medical, Electronics, and Logistics; as well as to traditional industrial markets including automotive components. More information is available at www.adept.com.
Featured Product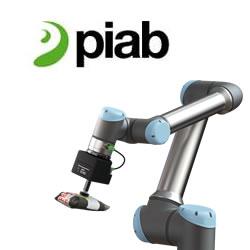 Piab's Kenos KCS gripper enables a collaborative robot to handle just about anything at any time. Combining Piab's proprietary air-driven COAX vacuum technology with an easily replaceable technical foam that molds itself around any surface or shape, the gripper can be used to safely grip, lift and handle any object. Standard interface (ISO) adapters enable the whole unit to be attached to any cobot type on the market with a body made in a lightweight 3D printed material. Approved by Universal Robots as a UR+ end effector.