FactoryTalk View 7.0 HMI software improves process-system capabilities, information integration and usability
Manufacturers, particularly those in process industries, can gain increased functionality and an enhanced operator experience with the latest version of the FactoryTalk View human-machine interface (HMI) software from Rockwell Automation. FactoryTalk View Site Edition (SE) and Machine Edition (ME) 7.0 applications, releasing in early 2013, offer more efficient alarm management, simplified installation, improved user experience, and integrated data sharing in a wide range of production environments.

"To stay competitive, our customers need scalable HMI solutions that are easier to install, enable operator productivity, and are more tightly integrated to company control and information systems," said Tony Carrara, product manager for FactoryTalk View SE software, Rockwell Automation. "To meet all these needs, we are leveraging our deep experience to evolve our visualization software."
FactoryTalk View SE 7.0 software will support larger numbers of HMI clients and servers in a single system, increasing the size of systems that can support the FactoryTalk View SE alarming subsystem, FactoryTalk Alarms and Events.
The FactoryTalk Alarms and Events alarming subsystem has been enhanced to align with ISA's Alarming Standard 18.2., and will now support the shelving state. The subsystem now also allows users to configure remote-alarming commands on display faceplates, saving crucial time when an operator needs to react to device alarm situations.
The newest version includes an improved installation process and design environment. The new installation process in FactoryTalk View SE and ME software saves time with a streamlined work flow that automates installation of FactoryTalk View components. From a design-time standpoint, a new find-and-replace for HMI and global-object displays will be available in the FactoryTalk View Studio design environment so the user can locate and replace tags or strings across multiple servers and screens.
For run-time improvements, operators can more quickly and intuitively navigate screens and resolve production issues with a new navigation button that provides functionality similar to the navigation buttons in commercially available web browsers. Client workstations can track each screen the operator opens, and the navigation button allows the operator to quickly display and move through navigation history. Enhanced graphic capabilities in FactoryTalk View 7.0 software also provide operators with a more realistic view of a process, with gradient shading and support for the .PNG graphic type.
A new network-scoped option for FactoryTalk View SE Station software allows a single-computer HMI to better integrate with products, such as FactoryTalk Historian SE and ME software. Using the new networked FactoryTalk View SE Station software, users will be able to browse to a FactoryTalk Historian SE server, select tags, and view the historical information for those tags directly on the operator workstation.
Better device connectivity and diagnostics are available for Allen-Bradley PanelView Plus 6 operator terminal applications with FactoryTalk View ME 7.0 software. PanelView Plus 6 operator stations can now connect directly to and display data from noncontroller devices, such as smart overload relays or power monitors, saving controller memory. FactoryTalk View ME 7.0 software also delivers new ActiveX controls and runtime capabilities that allow operators to view diagnostic information for a PanelView Plus terminal, such as temperature, load, battery voltage and network IP settings directly on a display.
About Rockwell Automation
Rockwell Automation, Inc. (NYSE: ROK), the world's largest company dedicated to industrial automation and information, makes its customers more productive and the world more sustainable. Headquartered in Milwaukee, Wis., Rockwell Automation employs over 22,000 people serving customers in more than 80 countries.
Featured Product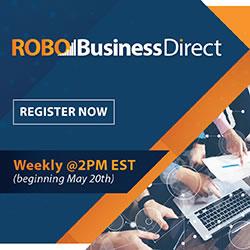 RoboBusiness Direct is built to foster robotics innovation in all its forms, expand robotics business opportunities, and build a community of like-minded problem solvers with the goal of driving the growth of robotics businesses. More than a webinar or virtual event, RoboBusiness Direct is an ongoing, integrated series of presentations and media coverage delivered by brightest minds from the leading robotics and automation companies from around the world - Nuro, FedEx, Lockheed Martin, Samsung, Siemens and more.