His territory includes Florida, Georgia, South Carolina, Eastern Tennessee, North and South Carolina, and Virginia.
Winchester, MA - 05.04.2013 -- Gefran Inc. today announced that Mick White has been named the Southeast Regional Sales Manager Industrial Sensor and Automation Products for North America. Mick will be responsible for all customer relationships, OEM and distributor sales for Gefran's Industrial Sensors and Automation products in the Southeast region of the United States. His territory includes Florida, Georgia, South Carolina, Eastern Tennessee, North and South Carolina, and Virginia.

Eric Kirleis, Gefran's Managing Director, said, "We are excited to have Mick White on our North American team. Mick's extensive experience in Industrial Sensors and Automation Products for plastics, fluid power, metal processing, power control and packaging with a focus on Automation Product Solutions will increase both the visibility and sales for Gefran, Inc. Mick brings to the role outstanding knowledge of customers, applications and market information.
As the Southeast Regional Sales manager, Mick will take Gefran's Sensor and Automation products and focus on the educating and managing of OEMS, Distributors and End Users in the Southeast Region. Mick will provide them with the products they need to be successful in their industrial applications while providing them with increased productivity and reduction in cost. He is committed to adding the Southeast Region of North America as a vital entity matching other US counter parts success.
Mick stated, "Gefran has an incredible product line. Gefran's dedication to the Sensor and Automation Product family will provide the industrial and manufacturing market in the Southeast Region of the US' the benefit of having increased efficiency, productivity, and control. My goal is to provide Gefran's Automation and Sensor products as well as Gefran's other family of products as much visibility as possible in order to bring the same high quality product line to the Southeast US which already prevails in North America and World Wide."
Prior to joining Gefran, Mr. White worked for the following companies: Advanced Controls Solutions, Simco Technologies, CID, and Finder Relays. He has over 10 years of experience in OEM, Channel Sales, and Direct Sales. Mr. White has earned a Bachelor of Science in Business Management from Shorter College.
About Gefran (www.gefran.com)
Gefran is a global manufacturer of Industrial Automation Solutions and Sensors. The industrial component products include a complete range of controllers, melt and pressure sensors, mercury and non-mercury filled sensors, and as well as many other automation industrial products. Gefran's Sensors are manufactured in Gerenzano Italy and in North America in Boston, MA. The products are serviced and supported in Boston, MA service centers.
Gefran is a global manufacturer of automation equipment including drives for the Elevator, Industrial and Photovoltaic industries. Gefran's family of products expand beyond Sensor and Automation Solutions.
Additional information can be found at the Gefran website: www.gefran.com.
Featured Product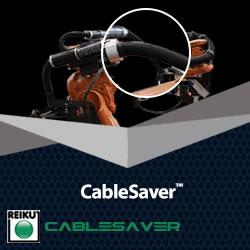 REIKU's Cable Saver™ Solution eliminates downtime, loss of revenue, expensive cable and hose replacement costs, maintenance labour costs. It's available in three sizes 36, 52 and 70 mm. All of the robots cables and hoses are protected when routed through the Cable Saver™ corrugated tubing. The Cable Saver™ uses a spring retraction system housed inside the Energy Tube™ to keep this service loop out of harms way in safe location at the rear of the Robot when not required. The Cable Saver™ is a COMPLETE solution for any make or model of robot. It installs quickly-on either side of the robot and has been tested to resist over 15 million repetitive cycles.