Lowest profile rotary table on the market features direct drive RotoLinear motor technology.
Philadelphia, PA April 10, 2013

IntelLiDrives, Inc. released Ultra-thin rotary table model ACR-55UT that features lowest profile direct drive on the market.
This rotary actuator has 55 mm center aperture for applications in semiconductor manufacturing equipment, wafer inspection and cutting, fiber-optics alignment, optical applications, precision part indexing and robotics. Rotary table ACR-55UT is capable of wide range of rotation speeds from 0,1 rpm to 1,000 rpm with velocity ripple under 0.1%
Rotary table ACR55UT utilizes slot-less direct drive brushless modular motor technology
for low velocity ripple. Motor rotor is directly coupled to precision rotary encoder with positioning resolution 0.25 arc-sec and absolute rotational accuracy of 5 arc-sec.
ACR-55UT low rotor profile and high torque to inertia ratio allows high rate start-stop motions with exceptionally short settling times to outperform traditional servo motor direct drives and gear-driven mechanisms, which makes ACR-55UT ideal for the applications requiring contoured motion, smooth scan velocity and precise incremental steps.
Bearings with low run-outs are used to maximize performance with respect to wobble, moment stiffness and rotating friction. A precision ground top rotor further minimizes wobble.
Rotary table ACR-55UT can be combined with other IntelLiDrives rotary tables for multi-axes rotational systems.
Matching motor controller with RS-232, USB, CAN-bus and Ethernet interfaces is available for seamless integration.
ACR-55UT Main features:
*very low profile
*high resolution
*precision bearings
*large center aperture
*direct drive brushless motor
*low velocity profile
*can be mounted in any orientation
ACR055UT Specifications:
*torque 6 Nm
*resolution to 0.25 arc-sec
*speed 1,000 rpm
*accuracy 5 arc-sec
*table height 22 mm
*clear aperture 55 mm
For additional information contact:
IntelLiDrives, Inc.
8510 Bustleton Ave
Philadelphia, PA 19152
tel: (215) 728-6804
fax: (215) 745-9459
e-mail: admin(at)intellidrives(dot)com
web: http://www.intellidrives.com
Featured Product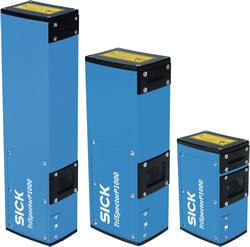 LiDAR (Light Detection and Ranging) is one of the most reliable methods for parts sensing in factory automation today. SICK has made this technology affordable and easy to use! Click on the video link below to learn about the TiM1xx LiDAR sensor and how it provides: - Area scanning LiDAR technology in a standard sensor package - 200-degree field of view and 3 meter sensing range allows for 169 square feet of area scanning - Compact size and light weight enables ease of deployment in "non-standard" type applications, like end-of-arm robotic tooling - Wide area scanning without having to mount a transmitter and receiver makes installation much easier - IO Link for easy configuration