Lowest profile rotary table on the market features direct drive RotoLinear motor technology.
Philadelphia, PA April 10, 2013

IntelLiDrives, Inc. released Ultra-thin rotary table model ACR-55UT that features lowest profile direct drive on the market.
This rotary actuator has 55 mm center aperture for applications in semiconductor manufacturing equipment, wafer inspection and cutting, fiber-optics alignment, optical applications, precision part indexing and robotics. Rotary table ACR-55UT is capable of wide range of rotation speeds from 0,1 rpm to 1,000 rpm with velocity ripple under 0.1%
Rotary table ACR55UT utilizes slot-less direct drive brushless modular motor technology
for low velocity ripple. Motor rotor is directly coupled to precision rotary encoder with positioning resolution 0.25 arc-sec and absolute rotational accuracy of 5 arc-sec.
ACR-55UT low rotor profile and high torque to inertia ratio allows high rate start-stop motions with exceptionally short settling times to outperform traditional servo motor direct drives and gear-driven mechanisms, which makes ACR-55UT ideal for the applications requiring contoured motion, smooth scan velocity and precise incremental steps.
Bearings with low run-outs are used to maximize performance with respect to wobble, moment stiffness and rotating friction. A precision ground top rotor further minimizes wobble.
Rotary table ACR-55UT can be combined with other IntelLiDrives rotary tables for multi-axes rotational systems.
Matching motor controller with RS-232, USB, CAN-bus and Ethernet interfaces is available for seamless integration.
ACR-55UT Main features:
*very low profile
*high resolution
*precision bearings
*large center aperture
*direct drive brushless motor
*low velocity profile
*can be mounted in any orientation
ACR055UT Specifications:
*torque 6 Nm
*resolution to 0.25 arc-sec
*speed 1,000 rpm
*accuracy 5 arc-sec
*table height 22 mm
*clear aperture 55 mm
For additional information contact:
IntelLiDrives, Inc.
8510 Bustleton Ave
Philadelphia, PA 19152
tel: (215) 728-6804
fax: (215) 745-9459
e-mail: admin(at)intellidrives(dot)com
web: http://www.intellidrives.com
Featured Product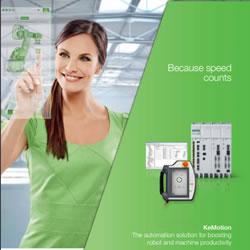 Best ergonomics and an intuitive user interface are key factors for efficient operation and monitoring. With the KeTop devices, high-performance, application-optimized hardware is available. The turnkey TeachView robotics user interface enables fast and easy teach-in. User-friendly HMIs are created with the easy-to-operate KeView visualization software - an optimum user experience is guaranteed.