A robot with six electromechanically driven axes - in 1973 that was a revolution in industrial production!

40 years ago, KUKA introduced the FAMULUS, the first industrial robot of its own manufacture, thereby ushering in an entirely new era of robotics. KUKA had previously gained relevant experience through the use of robots from other manufacturers, which were hydraulically operated, however. When the demands for powerful and reliable robots above all from the automotive industry grew ever more pressing, the company decided to develop its own robot.
The idea has paid dividends: today, 40 years after the FAMULUS, KUKA is one of the world's leading suppliers of industrial robots.
Featured Product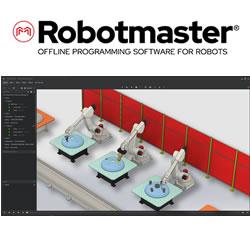 Robotmaster delivers unmatched, full-function off-line programming capability for robots - easy programming of precise robot motion control and quick generation of path trajectories of any size, with minimal programmer intervention. Our strong background in CAD/CAM (Computer Aided Manufacturing) software has enabled us to bring a revolutionary approach to programming industrial robots.