A robot with six electromechanically driven axes - in 1973 that was a revolution in industrial production!

40 years ago, KUKA introduced the FAMULUS, the first industrial robot of its own manufacture, thereby ushering in an entirely new era of robotics. KUKA had previously gained relevant experience through the use of robots from other manufacturers, which were hydraulically operated, however. When the demands for powerful and reliable robots above all from the automotive industry grew ever more pressing, the company decided to develop its own robot.
The idea has paid dividends: today, 40 years after the FAMULUS, KUKA is one of the world's leading suppliers of industrial robots.
Featured Product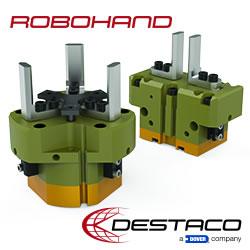 Automatically change end effector tooling quickly and easily with Destaco's Automatic Tool Changers. Designed with exceptional repeatability, high rigidity and load capacity, they are perfect for multiple tooling applications utilizing one robot. We offer different models and sizes to handle light-duty to heavy-duty applications. Our RQC/RTP Series provides a high level of flexibility with a configurable, modular design that accommodates up to four optional modular interfaces.