A robot with six electromechanically driven axes - in 1973 that was a revolution in industrial production!

40 years ago, KUKA introduced the FAMULUS, the first industrial robot of its own manufacture, thereby ushering in an entirely new era of robotics. KUKA had previously gained relevant experience through the use of robots from other manufacturers, which were hydraulically operated, however. When the demands for powerful and reliable robots above all from the automotive industry grew ever more pressing, the company decided to develop its own robot.
The idea has paid dividends: today, 40 years after the FAMULUS, KUKA is one of the world's leading suppliers of industrial robots.
Featured Product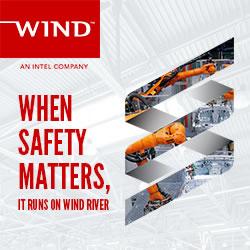 When it comes to ensuring the development of can't-fail systems, Wind River® is a leader with a proven track record of success. With more than 30 years of experience in embedded software and a portfolio of products deployed across more than 2 billion devices, Wind River delivers safety and security when it counts most. From industrial automation to automotive systems, as well as in healthcare devices, railway operations, and throughout the aerospace and defense sector, Wind River has extensive expertise providing built-in safety for complex, connected, safety-critical systems.