May 14 - 16 at Toronto Congress Centre in Toronto, Ontario,
DUNCAN, SC - Each year PLAST-EX offers an eye-opening look at the latest innovations in the plastics industry - and this year's show, taking place May 14 - 16 at Toronto Congress Centre in Toronto, Ontario, will be no exception. The exhibit from Stäubli Connectors and Robotics at Booth 2115, featuring technologically advanced robotics and connection systems, will be a must-see for anyone who wants to know what's next for the plastics industry.

An industry pioneer, Stäubli introduced the first line of 6-axis robots designed specifically for use in the plastics industry - and continues to be at the industry's leading edge. Today Stäubli plastics robots meet a full range of automation needs, from high-speed demolding, two-shot molding, in-mold decoration and labeling to insert loading, product assembly, testing and packaging.
The exhibit at Booth 2115 will focus on solutions for delivering higher throughput and shorter cycle times. Of the entire event, the lightning fast TP80 Fast Picker is certain to be a highlight. Representing "the future of high-speed kinematics," this 4-axis robot sets new benchmarks for pick and place applications with speeds of more than 200 picks per minute. It is also more flexible, agile and lightweight than the majority of robots on the market, maintaining high precision with homogenous repeatability throughout the entire work envelope. In addition to the TP80 Fast Picker, Stäubli will exhibit the TX60 Stericlean, an ultra-precise six-axis industrial robot, and the TS60 conveyor tracking system for dual picking and placing of parts.
Stäubli's quick mold change system, anticipated to be another event highlight at PLAST-EX, is designed to improve cycle times and productivity at every step of the process: mold loading, mold clamping, energy connection, handling and processing, with a variety of clamping systems, single and multi-couplings suited to various requirements, and robots for automating product handling and post-processing.
PLAST-EX covers every aspect of plastics industry operations, with technologies for increased efficiency and output, products and services including primary processing machinery, CAD and manufacturing, production machinery, materials, molds, materials handling, logistics and more. Visit Stäubli at Booth 2115 for systems and technologies that will give you a competitive edge.
Featured Product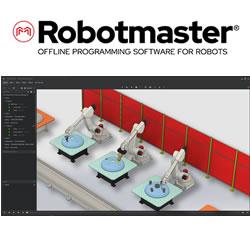 Robotmaster delivers unmatched, full-function off-line programming capability for robots - easy programming of precise robot motion control and quick generation of path trajectories of any size, with minimal programmer intervention. Our strong background in CAD/CAM (Computer Aided Manufacturing) software has enabled us to bring a revolutionary approach to programming industrial robots.