ARI re-releases the popular Heavy Duty Bag Gripper in a lighter, more flexible and less expensive version.
Glenville, New York -- April 18, 2013 -- Applied Robotics Inc., a leading global manufacturer of robotic end-of-arm tooling and connectivity solutions, today announced they are re-releasing their popular Heavy Duty Bag Gripper with a lower price, reflecting a comprehensive engineering effort to cost the Heavy Duty Bag Gripper or HDBG, down. The ARI Heavy Duty Bag Gripper has been working in material handling applications all over the world in countries such as the Czech Republic, Romania, South Africa, Spain, Canada, and of course, the USA. It has been packaging, palletizing and moving all sorts of products from bags of flour, rice, cement, popcorn, and soil, to dog and cat food. As an engineering based company, ARI has been looking for ways to reduce the cost of the unit but still retain its heavy duty and robust nature, which they have succeeded in doing.

"The challenge was to keep the Bag Gripper robust and durable while making it more flexible, lighter and less expensive," said Cliff Annis, COO of Applied Robotics, Inc., "In tough economic times, it comes down to cost and we didn't want to see our customers miss out on a high cycle and hardy Bag Gripper due to trying to save money. The productivity the HDBG provides, helps you to increase your output, which helps improve your bottom line. We are a leading global provider of specialized end-of-arm tooling and connectivity solutions and have been for close to 30 years and we always work to provide a better solution to any automation process."
Featured Product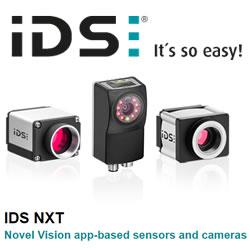 App Your Sensor®! What would smartphones be without apps? They would be mobile phones that can't do much more than make phone calls and sending SMS. Apps turn smartphones into intelligent assistants with any number of different tasks. Transferred into the world of image processing, this app-based approach transforms cameras and sensors into customised, smart vision sensors.