Integrated analog functions reduce component count, save power, improve signal integrity---- Combines analog and digital interfacing, communications and deterministic control in a single device
BRISTOL, England & SAN JOSE, Calif.--XMOS today launches xCORE-Analog™, a range of 6, 8, 10, 12 and 16-core multicore microcontrollers optimized specifically for designers of industrial products.

Equipped with an integrated analog-to-digital converter, power management circuitry and a range of timers, the new xCORE-Analog (or 'A-Series') devices will be used in a range of industrial products, including smart interfaces, high-level sensors and actuators, PLCs, communications devices and motor controllers. Developers can use the new multicore microcontrollers to quickly develop their products, with a level of multicore compute scaled to their exact requirements.
The introduction of the A-Series follows several recent significant announcements from XMOS within the industrial arena, including the addition of industrial Fieldbus capabilities; the launch of an industrial serial bus (IS-BUS) I/O card for the modular sliceKIT development system; and the announcement of a collaboration with Synapticon enabling smart motor control and service robotics applications. The A-Series is supplemented by the company's expanding xSOFTip range of soft peripherals, which includes real-time Ethernet, USB and human-machine interface (HMI) functions.
"The integration of analog functionality alongside the deterministic xCORE architecture opens up multicore microcontrollers to a whole new range of developers and application types," commented Nigel Toon, CEO, XMOS. "xCORE-Analog combines the best of hardware integration and software configurability, offering a degree of intelligence and flexibility that is well beyond traditional MCU solutions."
The A-Series brings the timing predictability, extremely low latency and hardware-level responsiveness of xCORE multicore microcontrollers to developers working on any type of system that needs to interface with analog signals. Like the existing xCORE-General Purpose (L-Series) and xCORE-USB (U-Series) product ranges, the A-Series is configured and programmed via the xTIMEcomposer Studio™ development toolset, an easy-to-use C-based design environment that is timing-aware, allowing developers to quickly interface with hundreds of different types of sensors at the front end.
The xCORE A-Series devices include up to eight channels of 12-bit, 1 MSPS analog-to-digital conversion; power-on reset, brown-out protection and watchdog facilities; integrated oscillator; deep sleep memory; and integrated DC/DC converter. These features combine to reduce the number of external components required and to allow designs to be implemented using simple two-layer printed circuit boards. The devices' power management features enable low sleep-mode power consumption of 100 µA.
xCORE A-Series devices will be sampling in Q2 2013, with volume production expected in Q4. Pricing is from $4.60 for volumes of over 25k.
Further details are available from an XMOS sales representative: http://www.xmos.com/contact/distributors
For more information on XMOS products including development kits and software, visit www.xmos.com
About XMOS
XMOS is a young fabless semiconductor company based in Bristol, UK. The wide range of xCORE multicore microcontrollers with Hardware-Response™ provide a unique combination of parallel multitasking, deterministic performance, support from a large library of software-defined peripherals, allowing you to meet your exact design requirements. This makes xCORE multicore microcontrollers ideal for demanding embedded applications in audio, automotive, consumer and industrial products, where other microcontrollers struggle. XMOS provides xTIMEcomposer™ Studio, an easy to use development system, that makes it simple to design complex embedded systems.
For more information please visit www.xmos.com
Featured Product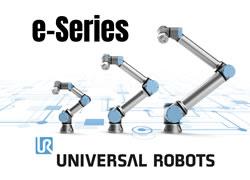 With the new e-Series cobot line, Universal Robots raises the bar for cobots, adding unique new features while significantly strengthening the four core principles defining collaborative robots: fast set-up, easy programming, flexible deployment, and safe operation. With a new built-in, tool-centric Force/Torque sensor the e-Series is ready to take on applications requiring force control right out of the box. A repeatability of 30 micron means the new cobots are suitable for very precise finishing, assembly and electronics tasks. A re-designed user interface decreases cognitive load and expedites program development, while a new externally accessible, 500Hz system bus enables more complex motion control algorithms or profiles.