- Fully-Ruggedized IMUs provide CAN and RS-422 Interfaces -
Unmanned Systems 2013

Sensor + Test 2013
SAN JOSE, Calif.--Epson Electronics America (EEA) has developed two new products, the M-G550-PC and the M-G550-PR, for its inertial measurement unit (IMU) lineup. The new products will be on display at Sensor + Test 2013, the world's largest international fair for sensors to be held from May 14th - 16th in Nuremburg, Germany. Later this year, EEA will also be showing these two new products at AUVSI 2013, in Washington D.C., from August 12th - 15th, 2013.
The new 6-DOF IMUs each have three axes of gyroscopes and accelerometers, plus provide built-in support for two widely-used industrial interfaces: CAN and RS-422 protocol. Packaged in metal enclosures equipped with IP67-level water and dust protection, the IMUs are capable of withstanding harsh, demanding environments. Samples of the products will be available for select customers beginning in May 2013. Volume production is slated to begin in July 2013.
Epson's current IMU, the M-G350-PD11 (S4E5A0A0), has been enormously successful in a wide range of customer applications due to its small size, low weight and outstanding performance. The new M-G550-PC and M-G550-PR variants extend the capabilities of the M-G350-PD11 to offer customers truly ruggedized systems that are built to exceed Epson's standard of high performance.
The new IMUs are simple to install and connect in vehicles, marine vessels, and a variety of other industrial products and systems, offering extremely accurate motion sensing for a wide range of industrial applications.
The M-G550-PR's RS-422 interface offers high noise immunity even in extremely remote installations (such as on the opposite end of a 200-meter cable), allowing customers to measure distant or otherwise-located motion such as subsea seismic activity.
The M-G550-PC's CAN interface allows the IMU to be deployed as part of a node infrastructure, harnessing the sensing power of multiple IMUs for large area of complex structure monitoring applications. Specifically-designed for customers seeking robust, survivable motion sensing systems, the M-G550-PC is ideal for demanding applications in the construction, industrial, oil and manufacturing industries.
"Earlier this year, Epson announced the formation of a new sensing systems business unit with the mission of making high-precision sensors to create new value that improves people's lives," said Yoshiyki Moriyama, chief operating officer of Epson's Sensing Systems Operations Division. "I believe that these IMUs, which will provide Epson's customers with new value and give their products and services a competitive edge, are a strong first step toward achieving that mission."
For more information about this product:
http://www5.epsondevice.com/en/sensing_system/
For information about Sensor + Test 2013
Date: May 14th-16th 2013
Place: Nuremburg, Germany
Booth No. 12-392 (Hall 12)
http://www.sensor-test.de/welcome-to-the-measurement-fair-sensor-test-2013/
For information about AUVSI 2013
Date: August 12th-15th 2013
Place: Walter E. Washington Convention Center, Washington, DC
Booth No. 3736
http://www.auvsishow.org/
About Epson Electronics America, Inc.
Epson Electronics America, Inc. (EEA) is a subsidiary of Japan-based Seiko Epson Corporation (SEC) and is responsible for sales, marketing and engineering of the product lines of SEC's Microelectronics Device Division in the America's. EEA provides a wide array of timing and frequency control products, integrated circuits, sensing device and system solutions for customer products and applications that require high levels of accuracy, reliability, stability, energy efficiency and compact design. Based in San Jose, California, the EEA Group has three regional offices, more than 40 sales offices in the U.S., and a growing network of exclusive distributors.
For more information please visit:
www.eea.epson.com
Featured Product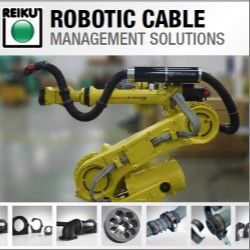 REIKU's Cable Saver™ Solution eliminates downtime, loss of revenue, expensive cable and hose replacement costs, maintenance labour costs. It's available in three sizes 36, 52 and 70 mm. All of the robots cables and hoses are protected when routed through the Cable Saver™ corrugated tubing. The Cable Saver™ uses a spring retraction system housed inside the Energy Tube™ to keep this service loop out of harms way in safe location at the rear of the Robot when not required. The Cable Saver™ is a COMPLETE solution for any make or model of robot. It installs quickly-on either side of the robot and has been tested to resist over 15 million repetitive cycles.