New Software Development Kit Creates Research Robot With Almost Limitless Capabilities
BOSTON, MA--(Apr 25, 2013) - Rethink Robotics today announced the launch of the Baxter Research Robot, a humanoid robot with two arms powered by a revolutionary new Software Development Kit (SDK) that will allow researchers to create a wide array of custom applications for robots. The Baxter Research Robot runs on ROS, the global Robot Operating System standard, which gives researchers the ability to share innovations and build on each other's work and know-how.

The Baxter Research Robot is recommended by the National Robotics Initiative (NRI) as a research platform suitable for funding proposals.
Designed to work side by side with technicians and researchers without safety cages, the Baxter Research Robot is available for $22,000, which includes a service plan plus built in sensors such as cameras, force, sonar and rangefinder. The Research Robot's extremely low price point will allow Baxter to become an integral part of robotics labs in higher education institutions and manufacturers' research centers.
"Universities and other research labs are now able to purchase a fully functional research robot and then use their creativity and programming skills to create never before seen applications," said Rodney Brooks, founder, chairman and CTO of Rethink Robotics. "Tufts University, Massachusetts Institute of Technology and Worcester Polytechnic Institute have already begun working with the Baxter Research Robot and it is exciting to see the kinds of applications they will develop."
The SDK will enable researchers to focus on fundamental goals such as object manipulation, human-robot interactions, collaborative robotics, robot adaptation to changes in its environment and arm trajectory planning.
"Robot application development could potentially go viral the way software did for PCs and mobile apps did for smartphones," said Scott Eckert, President and CEO of Rethink Robotics. "The Baxter Research Robot's hardware and software platform can be extended in limitless directions through new software applications. This opens up the potential for an enormous and exciting new industry in creating apps for robots."
Graduate students at Worcester Polytechnic Institute are already working with Baxter and the research team has plans for studying tasks that can be performed using the robot's sensor suite.
"Acquiring Baxter has major significance for the WPI community and continues our leading-edge position in the ever-growing field of robotics," said Michael Gennert, director of Worcester Polytechnic Institute's Robotics Engineering program. "The open-source nature of Baxter's software platform allows our research team to make changes and explore further uses for the robot."
About Rethink Robotics
Rethink Robotics, Inc. developed the world's first robot with common sense to increase productivity and efficiency in manufacturing environments. Introducing robotics into places that have never been automated before, Rethink's Baxter robot is making manufacturers more efficient, their workers more productive and keeping jobs from migrating to low-cost regions. The Baxter Research Robot is a fully functional humanoid robot platform including sensor suite for research and teaching applications. Based in the Innovation District of Boston, Massachusetts, the company is funded by Charles River Ventures, Highland Capital Partners, Sigma Partners, Draper Fisher Jurvetson and Bezos Expeditions, the personal investment company of Jeff Bezos. For more information about Rethink Robotics, please visit www.rethinkrobotics.com or follow us on Twitter @rethinkrobotics
Featured Product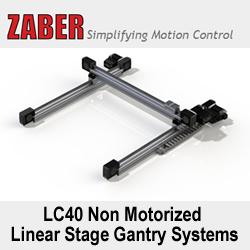 Zaber's X-LRQ-DE Series of linear stages have high stiffness, load, and lifetime capabilities in a compact size. The integrated linear encoder combined with stage calibration provides high accuracy positioning over the full travel of the device. At 36 mm high, these stages are excellent for applications where a low profile is required. The X-LRQ-DE's innovative design allows speeds up to 205 mm/s and loads up to 100 kg. Like all Zaber products, the X-LRQ-DE Series is designed for easy set-up and operation.