More than 14,000 online job ads required knowledge of robotics in the United States during the last 90 days, growing 10% year-over-year, according to WANTED Analytics™.
New York, NY May 01, 2013

During the last 90 days, more than 14,000 jobs were advertised online that require knowledge or use of robotics in the United States, according to WANTED Analytics™ (http://www.wantedanalytics.com), the leading source of real-time business intelligence for the talent marketplace. As robots and automation are used to increase productivity and efficiency, hiring grows for professionals that can build, program, use, and repair robots. The number of jobs posted online for robotic positions was up 10% compared to the same 90-day period in 2012.
Robotic skills are most commonly required in healthcare, engineering, production, repair and maintenance, and IT positions. Healthcare, which more commonly requires robotic surgery knowledge, saw the most ads posted online. In the past 90 days, more than 4,700 ads were available online at a 32% year-over-year increase. Production and maintenance fields also saw growth from the same 90-day period last year, while engineering and IT jobs actually declined.
The 10 most commonly advertised job titles that require use or knowledge of robotics include:
1. Maintenance Technician
2. Controls Engineer
3. Mechanical Engineer
4. Manufacturing Engineer
5. Senior Mechanical Engineer
6. Physician Urology
7. Registered Nurse
8. Electrical Engineer
9. Software Engineer
10. Urologist
With growing hiring demand for robotic-skilled professionals, it is likely to be moderately difficult to source potential candidates. As demand continues, conditions and the level of difficulty may increase. According to the Hiring Scale™, these positions score a 47 on average across the United States. (The Hiring Scale ranges from 1 to 99, with 99 representing the most difficult conditions.) Local conditions will vary widely, depending on regional demand and talent supply. The locations likely to experience the most difficulty with recruiting robotics professionals are San Angelo, Texas and State Park, Pennsylvania. These cities score higher than an 80 on the Hiring Scale, significantly more difficult than the national average. With increased competition from employers to attract candidates, Recruiters and hiring managers are likely to also experience a longer time-to-fill.
The Hiring Scale measures conditions in local job markets by comparing hiring demand and labor supply. The Hiring Scale is part of the WANTED Analytics platform that offers business intelligence for the talent marketplace.
To see additional charts and detail, please visit http://www.wantedanalytics.com/insight.
A free trial of WANTED Analytics is available at http://www.wantedanalytics.com/tryit.
About WANTED Analytics™
WANTED Analytics™ helps recruiting organizations make better decisions faster with real-time business intelligence on jobs, employers, and talent. Analytics brings together, for the first time, years of hiring demand and talent supply data to create a true talent intelligence platform for hard-to-fill positions.
Clients in the staffing, HR, RPO, media, and government sectors use WANTED Analytics™ to find sales leads, analyze employment trends, gather competitive intelligence, forecast economic conditions, and source hard-to-fill positions.
About WANTED Technologies Corporation
WANTED Technologies (TSX-V:WAN) provides real-time business intelligence for the talent marketplace. Founded in 1999, the company's headquarters are in Quebec City, Canada, and it maintains a US-based subsidiary with primary offices in New York City. WANTED began collecting detailed Hiring Demand data in June 2005, and currently maintains a database of more than 800 million unique job listings. For more information or to sample WANTED's services, visit http://www.wantedanalytics.com.
WANTED is also the exclusive data provider for The Conference Board Help Wanted OnLine Data Series®, the monthly economic indicator of Hiring Demand in the United States.
Featured Product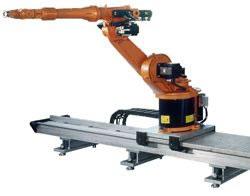 IPR Robotics offers a wide range of servo-driven 7th axis linear rails for industrial robots. These rails come in ten different sizes and are constructed from modular high strength extruded aluminum sections to handle payloads of 100 kg to 1600 kg or from steel to handle 2000 kg payloads. This variety of rail sizes allows each application to be sized correctly, controlling the space required and the price point. The drive train design of these rails utilizes helical gear-racks and is proven over 10 years to be repeatable and reliable, even in tough foundry applications.