Mr. Meyer has more than 30 years' experience in the health care industry
BOZEN, Sud-Tirol, Italy, May 1, 2013 --

Health Robotics today announced the appointment of Gordon Meyer to its Board of Directors. Mr. Meyer has more than 30 years' experience in the health care industry with Sandoz Canada (Novartis), C.R. Bard, Sabex, and Baxter Canada, amongst others. During the last sixteen years at Sabex and Sandoz-Novartis he led a team that is the Canadian leader in hospital small volume parenteral injectables.
Mr. Meyer stated: "In my last assignment as Vice President of Sandoz Canada's Hospital Division and Health Robotics' exclusive partner in Canada, I had the opportunity to witness the positive impact of Health Robotics' solutions in the improvement of patient safety. The company already has the best-in-class products in the Sterile Compounding Automation sector, and now they are poised to build a world-class company, enabling them to broaden their global impact in health care. Based on my experience, Health Robotics is very well positioned for high growth and continued market leadership for years to come, particularly in Canada."
Canada has been a wonderful launching pad and host for Health Robotics since the company established its North American direct operations in Toronto during the first quarter of 2011. In only 2 years, Health Robotics became the undisputed leader in the North American Sterile Compounding Automation sector, with 30 Robots and 50 i.v.SOFT workflow installations. Mr. Meyer's appointment highlights the ongoing commitment that Health Robotics shows for the Canadian market.
Gaspar DeViedma, Health Robotics' Executive Vice President and Board Member, stated: "I'm very pleased to improve the Board's experience with Gordon Meyer . He has broad know-how of our industry and has demonstrated a high success rate throughout his distinguished career. Gordon is well known to our growing Canadian customer base and he will be of great help to me in future decisions related to the North American health care industry in general, and the Canadian market in particular. This will help us maximize future opportunities in Canada, just like the recent appointment of Steve Thomas to our Board broadens our impact within the United States: http://www.prnewswire.com/news-releases-test/health-robotics-appoints-steve-thomas-to-board-of-directors-200410091.html
About Health Robotics:
Founded in 2006 and now reaching 80% total IV Robots market share in the world [including over 90% of the Oncology Robots global market], Health Robotics is the undisputed leading supplier of life-critical intravenous medication robots, providing over 350 hospital installations in 5 continents with the only fully-integrated robotics-based technology, IV Workflow, and manual compounding software automation solutions. Health Robotics' second generation products [i.v.STATION, i.v.SOFT, and i.v.STATION ONCO] have been found [through scientific and peer-reviewed studies[1],[2]] to greatly contribute to ease hospitals' growing pressures to improve patient safety[1], increase throughput, and contain costs[1]. Through the effective and efficient production of sterile, accurate, tamper-evident and ready-to-administer IVs, Health Robotics' medical devices and integrated workflow solutions help hospitals eliminate life-threatening drug[1] and diluent[1] exchange errors, improve drug potency[2], decrease other medical mistakes and sterility risks, work more efficiently[1], reduce waste and controlled substances' diversion, and diminish the gap between rising patient volume/acuity and scarce nursing, and pharmacy staff. For more information, please visit: http://www.health-robotics.com
Featured Product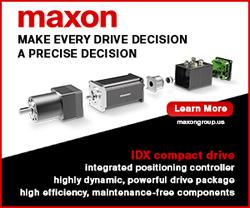 Discover the world of drive technology from a leading worldwide supplier of innovative customized drives. - Manufacturer of brushed and brushless DC motors, gearheads and motion controllers - Custom drive systems, quantities as low as a single unit - Certified for aerospace and medical applications