New Swisslog TransCar Automated Guided Vehicle (AGV) features advanced navigation and user interface capabilities that enable efficient and cost-effective automation of bulk supply movements within hospitals.
Denver, CO May 01, 2013

Swisslog, the leading supplier of automation solutions for hospital material transport, today announced that it has released the next generation of its TransCar Automated Guided Vehicle. TransCar automates heavy payload movements from receiving docks to central supply; integrating with elevators and doors to move goods seamlessly to and from dock, laundry, food service, pharmacy and lab departments to patient floors, operating rooms and back. The next-generation TransCar AGV features state-of-the-art laser guidance and ultrasonic and photo-eye sensors that support safe, automated material delivery and an intuitive user interface that makes the system easy to learn and easy to operate.
Using TransCar, hospitals can standardize their delivery processes, making demand and response transparent for management and control. Automation assures consistent transport quality and timeliness through defined driving paths with defined speeds. TransCar AGVs handle routine supply and waste deliveries, freeing hospital staff for critical activities that require human interaction. These Automated Guided Vehicles offer a reliable and proven robotic alternative to traditional bulk material transport.
"Automating routine and repetitive deliveries gives hospitals bottom-line benefits through labor savings and by streamlining their material handling processes," notes Jeff Barber, TransCar North American Product Manager. "In today's hospital environment, automating material handling makes economic sense - improving workflows and providing just-in-time deliveries of both critical and routine supplies; while reducing injuries, damage to facilities and the demand for manual cart movement, thereby addressing critical manpower shortages."
Swisslog design engineers work closely with contractors and planners of new hospital construction and renovations, helping them define what, where, when and how materials can be transported by AGV. Through a Preliminary Needs Analysis, facility needs can be right sized for automation with an estimated Return on Investment.
Swisslog Healthcare Solutions (HCS) is the leading supplier of automation and software solutions for material transport and medication management in healthcare facilities. Swisslog has installed facility-wide and pharmacy automation systems in more than 3,000 hospitals worldwide, including more than 2,000 in North America. Denver-based Swisslog Healthcare Solutions offers total system design, manufacturing, installation and customer support - providing an integrated solution for lean workflow and operations that enhances information access, patient safety and cost efficiency.
About Swisslog
Swisslog is a global provider of integrated logistics solutions for warehouses, distribution centers and hospitals. Its comprehensive services portfolio ranges from building complex warehouses and distribution centers to implementing Swisslog's own software to intra-company logistics solutions for hospitals.
Swisslog's solutions optimize customers' production, logistics and distribution processes in order to increase flexibility, responsiveness and quality of service while minimizing logistics costs. With years of experience in the development and implementation of integrated logistics solutions, Swisslog provides the expertise that customers in more than 50 countries rely on.
Headquartered in Buchs/Aarau, Switzerland, Swisslog currently employs over 2,000 staff in 20 countries worldwide. The group's parent company, Swisslog Holding AG, is listed on the SIX Swiss Exchange (security number: 1232462, Telekurs: SLOG, Reuters: SLOG.S). For more information, visit http://www.swisslog.com.
Featured Product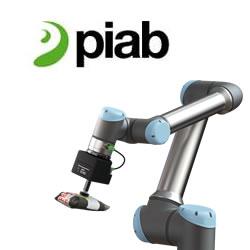 Piab's Kenos KCS gripper enables a collaborative robot to handle just about anything at any time. Combining Piab's proprietary air-driven COAX vacuum technology with an easily replaceable technical foam that molds itself around any surface or shape, the gripper can be used to safely grip, lift and handle any object. Standard interface (ISO) adapters enable the whole unit to be attached to any cobot type on the market with a body made in a lightweight 3D printed material. Approved by Universal Robots as a UR+ end effector.