Microchip Offers Grants for 20 Rookie Arizona VEX Teams and Loans Fully Equipped Gaming Trailer for Teams to Hold Local Tournaments
CHANDLER, Ariz.--Microchip Technology Inc. (NASDAQ: MCHP), a leading provider of microcontroller, mixed-signal, analog and Flash-IP solutions, today announced support of several VEX® robotics tournaments in Arizona. This provides opportunities for teams who qualified for the 2013 VEX Robotics World Championship, which was held April 18-20, 2013, in Anaheim, Calif., and was presented by the Robotics Education & Competition (REC) Foundation. The challenge, called the VEX "Sack Attack," pitted team alliances against each other to score points by dumping sacks into their alliance troughs during a two-minute match. As a result of Microchip's sponsorship grants, 20 Arizona rookie teams were created in 2013 and two new playing fields were donated, allowing more events and more teams to participate. More than 700 teams from 24 countries and 15,000 students competed in Anaheim, and teams from Cave Creek, Ariz., took home awards in the "Create" and the "Autodesk Design" categories.

Steve Sanghi, President and CEO of Microchip Technology Inc., was inducted into the STEM Heroes Hall of Fame for his work in promoting Science, Technology, Engineering and Math throughout the years of his involvement with various robotics programs, including VEX, FIRST® (For Inspiration and Recognition of Science and Technology) and the Microchip Academic Program. "I am honored to be included among this esteemed group of individuals who recognize that it is our responsibility to prepare the next generation of engineers, innovators and scientists, so they can define new technology and create a stronger economy," said Steve Sanghi upon receiving this accolade.
VEX Robotics and the REC Foundation also announced a new program at the World Championship event, called VEX IQ and the VEX IQ Challenge, which will bring robotics to the elementary-school level. This makes VEX available to students in elementary school through college.
Microchip, in conjunction with the REC Foundation, is expanding its support for 2013-2014 with an additional 20 grants that will be offered to rookie VEX teams in Arizona. Additionally, Microchip will equip a portable VEX playing field system which will be housed in a trailer that can be loaned out to Arizona teams who want to host scrimmages or qualifying tournaments in Arizona. Two playing fields, electronics and all gaming pieces will be included, allowing teams to put on their own VEX Robotics Competition events. For more information or to get involved, contact Carol Popovich at carol.popovich@microchip.com or (480) 792-7938.
Resources
High-res VEX logo Available Through Flickr or Editorial Contact (feel free to publish):
http://www.microchip.com/get/RCTC
Follow Microchip:
RSS Feed for Microchip Product News: http://www.microchip.com/get/4LSA
Twitter: http://www.microchip.com/get/KH18
Facebook: http://www.microchip.com/get/TQW8
YouTube: http://www.microchip.com/get/3TLM
About Microchip Technology
Microchip Technology Inc. (NASDAQ: MCHP) is a leading provider of microcontroller, mixed-signal analog and Flash-IP solutions, providing low-risk product development, lower total system cost and faster time to market for thousands of diverse customer applications worldwide. Headquartered in Chandler, Arizona, Microchip offers outstanding technical support along with dependable delivery and quality. For more information, visit the Microchip website at http://www.microchip.com/get/TNJ2.
About the Robotics Education & Competition Foundation
The REC Foundation seeks to increase student interest and involvement in science, technology, engineering and mathematics by engaging students in hands-on, sustainable and affordable curriculum-based robotics engineering programs across the U.S. and internationally. The REC Foundation develops partnerships with K-12 education, higher education, government, industry and the nonprofit community to achieve this work. For more information on REC Foundation, visit http://www.microchip.com/get/VRQE or http://www.microchip.com/get/KT3V.
Featured Product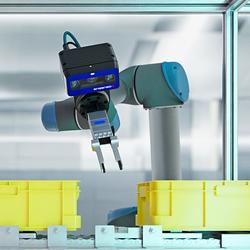 App Your Sensor®! What would smartphones be without apps? They would be mobile phones that can't do much more than make phone calls and sending SMS. Apps turn smartphones into intelligent assistants with any number of different tasks. Transferred into the world of image processing, this app-based approach transforms cameras and sensors into customised, smart vision sensors.