A forward-deployed cell from U.S. Army Research, Development and Engineering Command at Bagram Airfield in Afghanistan has outfitted iRobot's 310-SUGV with a new attachment that soldiers say increases their safety from the danger of roadside bombs.
Developed by RDECOM's Field Assistance in Science and Technology Center (RFAST-C) invited the so-called batwing, a collapsable hook that affixes to a telescoping pole to examine an improvised explosive device, back in January and remodeled it for the SUGV.

The attachment was made at the request of Capt. Chad M. Juhlin, commander of the 53rd Ordnance Company. The product was delivered within two weeks of his request.
"RFAST-C provides a great opportunity for soldiers on the ground to submit a requirement on the battlefield that will eventually turn into a product," Juhlin says. "Having these capabilities in theater not only decreases the lead time to obtain the product but allows for easy manipulation to the item if needed."
The hook can be used to grab or cut command wire, rake soil and dig.
"This project was unique in how we came up with the original prototype," says Nick Merrill, a mechanical engineer with RDECOM that assisted in the redesign of the batwing. "Most projects, we sit down and brainstorm. For this one, they brought the robot in, we looked at it and how it grasps objects. Within 20 minutes of them being on site, we had a quick, very rough prototype. Not very often does something get off the ground that quick."
The Joint IED Defeat Organization has requested 670 of the original version of the batwings and the Combined Joint Task Force Paladin requested 50 for the iRobot SUGV, in addition to the 10 that have already been fielded.
Featured Product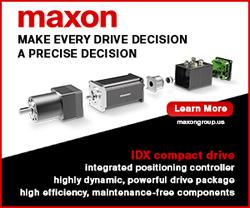 A brushless DC motor solution for use in hip and knee exoskeletons. This complete joint actuation unit consists of motor, gearhead, encoder and position controller. Fitting absolute encoder directly at the joint rotation provides designers increased positioning accuracy. The unit will deliver 54Nm of continuous torque and 120Nm on a 20% duty cycle. The system can be operated on supplies between 10 and 50V DC and the actuation speed is up to 22rpm.