Deutsche Messe continues expansion worldwide
Hannover, Germany and Princeton, N.J - May 8, 2013 - Those wishing to cite the world's growth markets often turn to the acronym BRICS, which stands for Brazil, Russia, India, China, and South Africa. These five countries and their dynamic national economies play a very important role in our expansion plan. We also add a sixth country, which is Turkey.

In recent years Deutsche Messe has exported successful trade shows from Germany to these countries, adapting the events to regional conditions. In 2012 Deutsche Messe organized 13 trade fairs in these countries based on topics taken from HANNOVER MESSE plus four CeMAT-related events. Altogether these 17 events showcased 5,117 exhibitors on 277,583 square meters and attracted 420,035 visitors.
Deutsche Messe will continue its global expansion in the coming years. Currently seven new trade fairs are planned for 2013, 2014 and 2015.
ComVac Asia - The compressor sector of PTC ASIA is steadily growing. In 2012, this sector occupied more than 3,000 square meters of exhibition area. In order to strengthen this sector and to attract more exhibitors, Deutsche Messe will launch Comvac Asia in 2013, which will run parallel to PTC ASIA and CeMAT ASIA in Shanghai from October 28 to 31, 2013.
Industrial Supply ASIA - Shanghai is an important center for automotive, plant engineering, healthcare & pharmaceutical industries. Triggered by a positive development in industrial subcontracting and sourcing, Deutsche Messe will launch Industrial Supply ASIA in 2013 to add this sector to PTC ASIA, CeMAT ASIA and ComVac ASIA in Shanghai from October 28 to 31, 2013.
RENEX SOUTH AMERICA - Deutsche Messe is expanding its portfolio of events in Brazil by launching a new trade fair, RENEX South America, which will premiere at the FIERGS Exhibition & Convention Centre in Porto Alegre from November 27 to 29, 2013. RENEX, which is short for "Renewable Energy Exposition," will showcase all the latest technological developments and solutions in the renewables sector.
Industrial Supply SOUTH AMERICA - Due to demand for increased quality and local sourcing and manufacturing in South America, Deutsche Messe is launching Industrial Supply SOUTH AMERICA in 2013 in Curitiba. Industrial Supply SOUTH AMERICA will showcase solutions for industrial subcontracting and lightweight construction in the fields of automotive, manufacturing and electrotechnology.
Industrial Supply INDIA - Deutsche Messe's tradeshow offering in India is very extensive, ranging from intralogistics systems, to drive and automation solutions, to surface treatment and laser technology solutions for manufacturing. Deutsche Messe recently grouped its five Delhi-based tradeshows under a new parent brand, WIN INDIA. This year, Industrial Supply INDIA will mark the sixth event under the WIN INDIA umbrella, focusing on subcontracting, components and parts, composites and new materials. WIN INDIA will take place in New Delhi from December 17 to 20, 2013.
TPA ITALIA - It is the first time that Deutsche Messe will organize a HANNOVER MESSE-themed trade fair in another EU country. The new show, TPA ITALIA, is a regional trade fair for power transmission & control, hydraulics and pneumatics. TPA ITALIA will be staged in the town of Rho, near Milan, in May 2014 as part of a joint venture between Deutsche Messe and Fiera Milano. It will be held every two years so as to alternate with MDA (Motion, Drive & Automation), Deutsche Messe's trade show for power transmission and control held in the odd-numbered years as part of HANNOVER MESSE in Hannover, Germany.
MDA NORTH AMERICA - Deutsche Messe is continuing to expand its activities worldwide and is now organizing the first-ever MDA NORTH AMERICA from September 8 to 13, 2014. This trade fair covers the power transmission and control and fluid power industries. It will take place parallel to the International Manufacturing Technology Show (IMTS) in Chicago, joining the already established INDUSTRIAL AUTOMATION NORTH AMERICA, which celebrated its premiere in 2012.
INTRALOGISTICA ITALIA - Together with the Italian market leader Ipack-Ima S.P.A., Deutsche Messe will stage INTRALOGISTICA ITALIA in Milan. This intralogistics show will take place in parallel with the world's premier packaging trade fair, Ipack-Ima, from May 19 to 23, 2015. INTRALOGISTICA ITALIA will present warehouse and factory equipment, packaging and assembly systems, loading equipment, complete logistics systems, traffic engineering, logistics software, transport logistics services and logistics services.
About HANNOVER MESSE (the Hannover Fair)
The world's leading showcase for industrial technology is staged annually in Hannover, Germany. The next HANNOVER MESSE will be held from April 7 to 11, 2014. HANNOVER MESSE 2013 comprised of 11 flagship fairs: Industrial Automation - Motion, Drive & Automation (MDA) - Energy - Wind - MobiliTec - Digital Factory - ComVac - Industrial Supply - IndustrialGreenTec - Surface Technology - Research & Technology. The event placed a strong emphasis on industrial automation and IT, energy and environmental technologies, power transmission and control, industrial subcontracting, manufacturing technologies, services and R&D. For an overview of Hannover Messe 2013, please visit http://aftershow.hannovermesse.de/en/
Featured Product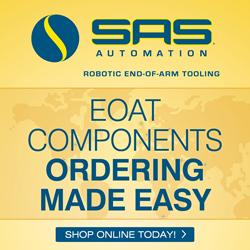 SAS Automation's complete line of modular components allows you to rapidly build your end-of-arm tools in your own plant, meeting your ever-changing automation needs on-demand. And with our newly enhanced Online Shopping Cart, it's never been easier! IT'S SHOPPING MADE SIMPLE, with features like: • Responsive Design so you can access anytime -- desktop, tablet or phone -- with ease • CAD Model Access with 3D Software Integration • Order History • Saved Quotes • Tool Builder • Product Comparisons • Enhanced Search • Social Media Sharing • Product Reviews