Unmanned systems are drawing increasing interest from not only police and first responders but journalists and environmentalists alike, although privacy fears must be addressed and operational rules created, according to speakers at a Tuesday conference.
Future Tense, a joint venture of the New America Foundation, Arizona State University and Slate magazine, sponsored "The Drone Next Door," a wide-ranging series of discussions on unmanned aircraft as they transition from military to civilian use.

AUVSI President and CEO Michael Toscano appeared alongside MIT's Missy Cummings to discuss the state of the technology. Integrating unmanned aircraft into the National Airspace System will create more than 100,000 jobs, particularly in agriculture, Toscano said, and Cummings said the issue with integration is now more about psychological than technological barriers.
A commercial revolution will take place in agriculture, Cummings said, and the United States is already behind.
"Japan basically does all its crop dusting with UAVs. An entire country," Cummings said.
She predicted that another revolution, that of unmanned cargo delivery, is already taking shape in Afghanistan in the form of the K-Max unmanned helicopter, which now supplies cargo to deployed soldiers and Marines.
"It's not just aviation on this cusp. It's many sectors of the transportation industry," she said.
However, in most cases, it's a matter of applying existing technology in new ways, not using new technology, Toscano said.
"There's no new leap-ahead technology with these uses," he said. "The cameras, the thermal imaging, there is nothing new. This is technology agnostic, but now you can do it in a more effective and efficient way."
Some speakers noted that it's not a given that this technology will have large commercial base. Konstantin Kakaes, a fellow at the New America Foundation, said there have been many efforts to convert military technology to civilian purposes.
Some, such as using nuclear bombs to clear trenches for shipping, didn't pan out. Others, such as opening GPS signals to the commercial world, worked out very well.
Other Uses
The conference addressed the military use of such systems, but also highlighted some user bases who are not as well known. Matthew Waite, a journalism professor at the University of Nebraska-Lincoln, has founded the Drone Journalism Lab to investigate the uses of UAS by journalists.
His lab is not only devising a code of conduct for journalists, but trying to master the operation of a UAS, which can be tricky. "Journalists are horrible pilots," he said.
However, the ability to fly small video and still cameras would be a boon to small TV stations and newspapers that couldn't afford a manned aircraft, he said.
Another ongoing and growing use of unmanned aircraft is for monitoring wildlife, their habitats and the poachers who are killing some of them in record numbers, said Carter Roberts, the president and CEO of the World Wildlife Fund.
Groups like the WWF simply don't always have good information about what's happening on the ground in remote locations and have started using UAS to track animals, discover poachers and then follow them back to their traders.
Privacy issues rarely come into play, because the areas are so remote and the systems help give a small technological edge against the poachers, who are better funded and better equipped, the said.
"We do not want to document the demise of nature," but instead use these systems to get real-time information into the hands of governments who can help the wildlife, Roberts said.
Featured Product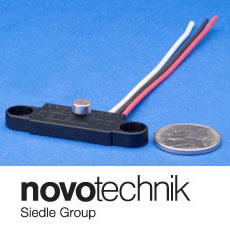 Vert-X 05E Series of dual angle/speed sensors. The series features easy mounting in small and narrow spaces with a 5 mm body depth and mounting flanges with metal inserts. The sensors make measurements only 6 mm from edge of product for close-to-wall measurement applications. Vert-X 05E Series sensors measure angles from 0 to 360°, rotational speed and direction with repeatability to 0.1°.