Woods Hole Oceanographic Institution has deployed a robotic instrument that will monitor red tide offshore Maine and carry out analysis on board, so people don't have to collect samples and manually process them.
The devices are called Environmental Sample Processors, and scientists operating off of research vessel Tioga deployed the first of two, with the second scheduled to be released later this spring. The deployments are set to last around 45 days.

"This deployment is a critical step towards our long-term dream of having a network of instruments moored along the coast of the Gulf of Maine, routinely providing data on the distribution and abundance of HAB [harmful algal bloom] cells and toxins. The technology will greatly enhance management capabilities and protection of public health in the region," says Don Anderson, Woods Hole senior scientist and the project's principal investigator.
The ESP collects a water sample and then tests it for DNA and types of toxins that target ocean life. The device is anchored to the ocean floor and suspended below a conductivity, temperature, depth sensor floating on the surface. It transmits images wirelessly to shore for onshore evaluation.
The two types of algae, Alexandrium fundyense and Pseudo-nitzschia, cause different types of shellfish poisoning in the Gulf of Maine. Scientist at Woods Hole would like the ESPs to become part of Maine's regional ocean observatory network, the Northeast Regional Association of Coastal and Ocean Observing Systems.
"The ESPs are not a replacement for state-run programs that monitor naturally occurring marine toxins in shellfish. Instead, they will provide valuable data on the phytoplankton cells and associated toxins in coastal waters giving managers a more complete picture of the magnitude and distribution of HAB events," says Kohl Kanwit, director of the Bureau of Public Health for the Maine Department of Marine Resources.
The ESP was originally developed by Monterey Bay Aquarium Research Institute President and CEO Chris Scholin. The ESPs deployed in the Gulf of Maine were manufactured by McLane Research Laboratories.
Featured Product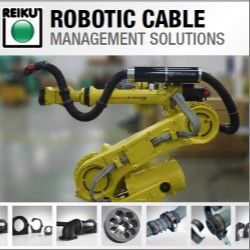 REIKU's Cable Saver™ Solution eliminates downtime, loss of revenue, expensive cable and hose replacement costs, maintenance labor costs. It's available in three sizes 36, 52 and 70 mm. All of the robots cables and hoses are protected when routed through the Cable Saver™ corrugated tubing.The Cable Saver™ uses a spring retraction system housed inside the Energy Tube™ to keep this service loop out of harms way in safe location at the rear of the Robot when not required. The Cable Saver™ is a COMPLETE solution for any make or model of robot. It installs quickly-on either side of the robot and has been tested to resist over 15 million repetitive cycles. REIKU is committed to providing the most modular, effective options for ensuring your robotic components operate without downtime due to cable management. www.CableSaver.com