Northrop Grumman Corporation and the U.S. Navy today launched a new chapter in the history of unmanned systems - carrier-capable unmanned aircraft - by successfully catapulting the X-47B Unmanned Combat Air System (UCAS) demonstrator from the deck of the USS George H.W. Bush(CVN-77).
The launch occurred at 11:18 a.m. Eastern time while the carrier was under way off the coast of Virginia. The tailless, strike-fighter-sized aircraft flew autonomously back to Naval Air Station Patuxent River where it landed safely 65 minutes later.

"Today's catapult launch of the X-47B is a momentous feat for naval aviation," said Capt. Jaime Engdahl, Navy UCAS program manager for the Naval Air Systems Command. "It proves that the Navy's goal of operating unmanned systems safely and effectively from aircraft carriers is well on its way to becoming a reality."
Northrop Grumman is the Navy's prime contractor for the UCAS Carrier Demonstration (UCAS-D) program. The company designed, produced and is currently flight testing two X-47B air vehicles for the program. Air Vehicle 2 completed the catapult shot.
"Catapulting the unmanned X-47B off the USS George H.W. Bush is an event as historic as the Navy's first catapult of a manned aircraft, which occurred in Nov. 1915 from the armored cruiser USS North Carolina (ACR-12)," said Carl Johnson, vice president and Navy UCAS program manager for Northrop Grumman. "We are delighted to help launch this new era of naval capability."
Featured Product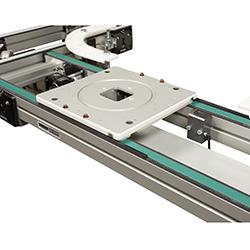 Dorner's 2200 Series Precision Move Pallet Systems are ideal for assembly automation. With features such as an innovative timing belt conveyor design and industry best pallet transfers, they get your product to the exact location, at the exact time and in the exact position it needs to be. They are now available with new options such as heavy load corner modules with 150 lb. capacity and 180 degree tight transfer corners for compact loops.