Northrop Grumman Corporation and the U.S. Navy today launched a new chapter in the history of unmanned systems - carrier-capable unmanned aircraft - by successfully catapulting the X-47B Unmanned Combat Air System (UCAS) demonstrator from the deck of the USS George H.W. Bush(CVN-77).
The launch occurred at 11:18 a.m. Eastern time while the carrier was under way off the coast of Virginia. The tailless, strike-fighter-sized aircraft flew autonomously back to Naval Air Station Patuxent River where it landed safely 65 minutes later.

"Today's catapult launch of the X-47B is a momentous feat for naval aviation," said Capt. Jaime Engdahl, Navy UCAS program manager for the Naval Air Systems Command. "It proves that the Navy's goal of operating unmanned systems safely and effectively from aircraft carriers is well on its way to becoming a reality."
Northrop Grumman is the Navy's prime contractor for the UCAS Carrier Demonstration (UCAS-D) program. The company designed, produced and is currently flight testing two X-47B air vehicles for the program. Air Vehicle 2 completed the catapult shot.
"Catapulting the unmanned X-47B off the USS George H.W. Bush is an event as historic as the Navy's first catapult of a manned aircraft, which occurred in Nov. 1915 from the armored cruiser USS North Carolina (ACR-12)," said Carl Johnson, vice president and Navy UCAS program manager for Northrop Grumman. "We are delighted to help launch this new era of naval capability."
Featured Product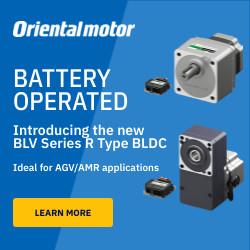 The BLE2 Series replaces our popular BLE Series and continues our brushless motor advantages by featuring an all new compact, high-power and high-efficiency brushless DC motor combined with a Driver that can be digitally set and controlled via external DC voltage or by the front panel. The BLE2 Series can easily compete with larger 3-phase inverter driven motors in many more applications, with built-in simple holding torque function, saving space and increasing performance thanks to the advantages of a brushless motor design. The BLE2 Series has a maximum speed of 4000 r/min, achieving a speed ratio of 1:50 (80 to 4000 r/min). The new motor structure is small than previous models and enables high power and high efficiency while incorporating easy setting, installation and wiring. The new motor connector offers IP66 degree of protection and allows for easy and direct connection between motor and driver with two available orientation of cable outlet direction. Standardized use of stain