The Abu Dhabi Education Council (ADEC) in partnership with the Abu Dhabi Centre for Technical and Vocational Education and Training (ACTVET) has organized the 2013 World Robot Olympiad (WRO), which is expected to attract 1,200 public and private school students from across the UAE.
The district competition (May 22nd 2013 to May 31st 2013) will help select top performing teams for this year's WRO international, which will be held in Indonesia from November 15th November 17th 2013 under the theme "World Heritage."

Out of the 379 teams in total across the Emirates (which is around 1500 participants), 18 of the best performing students from each district will be selected to participate at the UAE finals to be held on May 30th and 31st.
District teams will consist of the best three under 13 years old in the Regular Category, best three under 16 years old in the Regular Category; best three under 20 years old in the Regular Category; best five across all age groups in the Open Category and finally best four in football. The national final dates include the Regular Category Competitions (May 31st 2013) and the Open and Football Categories (June 1st 2013).
"ADEC has been assigned since 2008 to organize the national WRO qualifying competition for all the students in the UAE, which is why with each passing year we add more features to the competition.
This year's national qualifying competition has spread out in various ways, we are basically bringing the competition to students, each student will be provided with a venue, instead of having them travelling for two to three hours to compete," said Dr. Najla Alraway Alnaqbi, Ph.D., Educational Technology Expert, eLearning Manager at ADEC's P-12 Policy Sector.
Mr. Ali Al Marzouqi, Acting, Director Support Services at ACTVET said: "The support to and cooperation with the Abu Dhabi Education Council in organizing the regional competitions of World Robot Olympiad in UAE is grounded on the common interest to spread awareness on technology-based careers especially in robotics and engage Emirati youths in activities that boost their creativity and innovation.Our students will certainly gain a valuable experience that will allow them to improve their learning efficiency and widen their scientific knowledge."
He added: "the Abu Dhabi Centre for Technical and Vocational Education and Training is keen to partner in such a significant event that promotes positive competitiveness amongst Emirati youths and participate to the development of science and technology in our country.By building in our students problem-solving and creative skills, Robotics indeed represents one of the key specializations that contribute to prepare the workforce required for the professions of the 21st Century."
ADEC first took part at the WRO in 2008 with 30 national teams. During the same year, ADEC was appointed National Organizer of the World Robot Olympiad (WRO) in the UAE and during 2009; the program to equip schools with robotic kits was expanded to include all Abu Dhabi public schools catering for Grade 3 upwards.
By the end of 2010, junior robotics kits were supplied to public schools catering for Grades 1 - 3 and student participation increased to 129 national teams.
Private Schools and other significant educational institutions were invited to participate in the program during 2011 when ADEC, for the first time in the Middle East, hosted the world final and the 8th International WRO, which attracted over 600 teams with a reduced number of categories.
In efforts to encourage potential and skills in the Science, Technology, Engineering, and Mathematics (STEM) Education stream, multiple curriculums are encouraged to take part in the stimulating event, which is known to bring together young people from around the world in order to help develop their creativity, design and problem solving skills through a challenging, fun-loving competition.
"Involving students in the WRO with each passing year is part of ADEC's 10-year strategy plan to provide students with world class technology education through robotics and to encourage 21st century skills as part of Abu Dhabi's 2030 Economic vision to graduate students with critical, problem solving skills," said Dr. Alnaqbi.
She added: "Look at us now. We have grown in so many ways, and as ADEC's motto states: 'education for all.' ADEC is doing all it can to ensure accessibility to quality education. We look forward to witnessing continued growth during the 2013 competition and to develop the capacity of UAE students in order for them to participate effectively."
Featured Product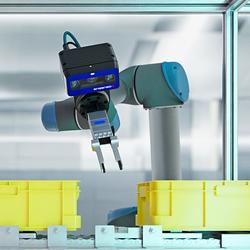 IDS NXT: a platform for a new generation of vision systems for industrial applications. It lays the groundwork to provide easy-to-use yet flexible complete systems that can be used to implement all steps of a vision solution. With IDS NXT ocean, a complete solution especially for AI-based image processing is now available. It allows to solve tasks where classic, rule-based image processing has reached its limits - without any programming effort.