"KTPO has consistently delivered outstanding vehicles to the customer"
Toledo | Augsburg - The KUKA Systems manufacturing operation in Toledo, Ohio, produced its one millionth body-in-white Jeep® Wrangler JK this month, the latest achievement for a facility that ranks consistently among the most efficient body shops in the North American auto industry.

KUKA Toledo Production Operations (KTPO), a wholly owned subsidiary of KUKA Systems North America LLC, Production workers at KUKA Toledo Production Operations/KTPO gather around the 1,000,000th body-in-white Jeep Wrangler built at the seven-year-old plant in Ohio. The KTPO operation ranks consistently among the most efficient body shops in the North American auto industry - and is part of Chrysler's Toledo Supplier Park. (Photo: KUKA Systems) builds the body-in-white of all Wranglers sold in the world - the classic two-door as well as the four-door Wrangler Unlimited models - since it began operations in 2006. Body-in-white is the first shop in the assembly process that welds the vehicle together.
KTPO is one of four plants comprising the Toledo Supplier Park, the only venture of its type in North America. Two different suppliers, each in its own building located at Chrysler Group LLC's Toledo Assembly Complex, perform separate assembly functions for the Wrangler. Chrysler operates both the paint, and trim, chassis and final assembly facilities. Mobis is responsible for chassis production.
"I could not be more proud of our entire team for their commitment to excellence in reaching this tremendous milestone and we look forward to making our second million Wrangler bodies," says KTPO managing director Jake Ladouceur. The highly automated KTPO plant, with 246 robots, builds 822 Wrangler bodies a day.
Given consistently strong consumer demand for the Wrangler, Chrysler has been increasing its output of vehicles. As a result, KTPO has adopted a tag relief system, which allows the production to proceed nonstop during each of the two daily shifts except during lunch breaks.
"KTPO has consistently delivered outstanding vehicles to the customer," says Ladouceur. "We have one of the best workforces in the United States auto industry and an excellent working relationship with Local 12 of the United Auto Workers that ensures that product quality is a collective focus for everyone."
With its recent acquisition of the automobile assembly-related assets of Utica Companies of Shelby Township, Michigan, KUKA Systems North America now is Number 1 supplier of manufacturing systems, including complete body shops and assembly lines, to the North American automotive sector.
In designing and equipping KTPO, KUKA Systems created a showcase for its expertise in welding and joining technologies and systems integration.
"Day in, day out, KTPO underscores how KUKA Systems can implement a state-of-the-art body shop that meets the most demanding benchmarks for quality and efficiency in the automotive industry worldwide," says Larry A. Drake, president and CEO, KUKA System Group.
ABOUT KUKA SYSTEMS:
KUKA Systems, headquartered in Augsburg/Germany, is a leading global supplier of flexible manufacturing systems for the automotive, aerospace, railway, energy and other industries in which highly automated processes and other assembly line concepts are required. Some 3,900 employees worldwide work on ideas, concepts and solutions for automated production and the provision of products and services for virtually all tasks in the industrial processing of metallic and non-metallic materials. The range is presented and marketed internationally via the subsidiaries and sales offices in Europe, America and Asia. KUKA Systems recorded an order volume of around 1,115.1 million euro for the 2012 business year. KUKA Systems North America LLC, based in Sterling Heights, Michigan, is part of KUKA Systems Group.
Featured Product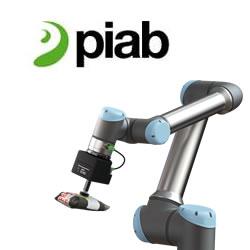 Piab's Kenos KCS gripper enables a collaborative robot to handle just about anything at any time. Combining Piab's proprietary air-driven COAX vacuum technology with an easily replaceable technical foam that molds itself around any surface or shape, the gripper can be used to safely grip, lift and handle any object. Standard interface (ISO) adapters enable the whole unit to be attached to any cobot type on the market with a body made in a lightweight 3D printed material. Approved by Universal Robots as a UR+ end effector.