Robotiq unveils the 2-Finger Adaptive Robot Gripper - 200 - a flexible electric gripper with 200 mm of stroke and expanded capabilities.
Quebec, Canada May 29, 2013

The 2-Finger Adaptive Robot Gripper - 200 has been designed using feedback from many automation engineers from manufacturing industry using robotic grippers, who were challenged with the processing of a wide variety of large parts and high changeover rates, in industries such as:
*Automotive parts
*Metal fabrication
*Construction equipment (heavy machinery)
*Foundries
"As with all Robotiq Adaptive Grippers, the goal remains the same: Use a single, mechanically intelligent robot gripper to handle all your parts to reduce tooling costs, eliminate changeovers, and maximize ROI." - Samuel Bouchard, President Robotiq.
Main Features
This new servo-electric gripper can be installed on any industrial robot to provide unparalleled versatility:
*Programmable 200 mm stroke to pick various part sizes
*Three distinct gripping modes - parallel, encompassing and internal - enable the handling of different part geometries
*Rugged design and sealed casing
*High grip force to handle heavy parts
*Grip detection and real-time finger position feedback
*Control of finger speed and force to adapt on-the-fly to heavy or light parts
Pictures, videos and additional information about the 2-Finger Adaptive Gripper - 200 are available here.
About Robotiq
Robotiq designs and manufactures robotic tooling to maximize ROI in high-mix automated manufacturing.
We work in partnership with robot manufacturers, system integrators, end users and an extensive network of distributors around the world.
Robotiq is a privately held company founded in 2008, based in Quebec City, Canada.
Featured Product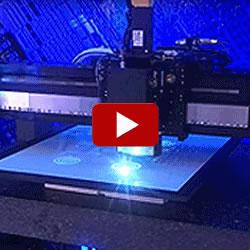 PI provides standard and custom linear, rotary, and spherical air bearing systems. They are available with 3-phase motors or voice coil motors, integral optical linear encoders. Our air bearings / and systems serve OEM, industrial, and research markets.