Robotiq unveils the 2-Finger Adaptive Robot Gripper - 200 - a flexible electric gripper with 200 mm of stroke and expanded capabilities.
Quebec, Canada May 29, 2013

The 2-Finger Adaptive Robot Gripper - 200 has been designed using feedback from many automation engineers from manufacturing industry using robotic grippers, who were challenged with the processing of a wide variety of large parts and high changeover rates, in industries such as:
*Automotive parts
*Metal fabrication
*Construction equipment (heavy machinery)
*Foundries
"As with all Robotiq Adaptive Grippers, the goal remains the same: Use a single, mechanically intelligent robot gripper to handle all your parts to reduce tooling costs, eliminate changeovers, and maximize ROI." - Samuel Bouchard, President Robotiq.
Main Features
This new servo-electric gripper can be installed on any industrial robot to provide unparalleled versatility:
*Programmable 200 mm stroke to pick various part sizes
*Three distinct gripping modes - parallel, encompassing and internal - enable the handling of different part geometries
*Rugged design and sealed casing
*High grip force to handle heavy parts
*Grip detection and real-time finger position feedback
*Control of finger speed and force to adapt on-the-fly to heavy or light parts
Pictures, videos and additional information about the 2-Finger Adaptive Gripper - 200 are available here.
About Robotiq
Robotiq designs and manufactures robotic tooling to maximize ROI in high-mix automated manufacturing.
We work in partnership with robot manufacturers, system integrators, end users and an extensive network of distributors around the world.
Robotiq is a privately held company founded in 2008, based in Quebec City, Canada.
Featured Product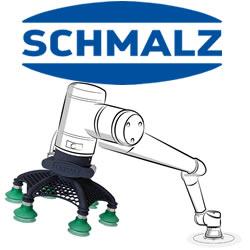 In order to interact with their environment and perform the tasks, lightweight robots, like all industrial robots, depend on tools - and in many cases these are vacuum grippers. These form the interface to the workpiece and are therefore a decisive part of the overall system. With their help, the robots can pick up, move, position, process, sort, stack and deposit a wide variety of goods and components. Vacuum gripping systems allow particularly gentle handling of workpieces, a compact and space-saving system design and gripping from above. Precisely because the object does not have to be gripped, the vacuum suction cupenables gapless positioning next to each other.