The American Welding Society is hosting "People Make the Difference" on June 3-5, 2013.
Waukesha, WI June 04, 2013

Starting Monday June 3, 2013, the American Welding Society (AWS) is hosting three days of tours, exhibits and training for participants starting with a tour of the Miller Facility in Appleton, WI. The tour will include demonstrations from Miller Welding Automation, Motoman, ABB and Fanuc Robotics. This tour will be a great way to demonstrate how important robotic welding and tooling components are, in the manufacturing industry.
The second day starts at 7:00am with a bus ride to Mayville Engineering, located in Mayville, WI Northwest of Milwaukee, WI. This tour will give the participants an inside look at the different environments that Mayville Engineering houses. A key part of the process is the synergistic process that starts with a customer's CAD drawing of the parts being welded.
During and after the tour participants will have a chance to walk through exhibits at Milwaukee Area Technical College (MATC) getting a chance to see manual and robotic welding demonstrations, welding tools and gears, and weld fixture tooling components design and build process. One of the exhibitors is Rentapen Inc., the Weld Fixture Specialist.
Rentapen Inc. is located in Waukesha, WI and is the leader in weld fixture design and build; they have also introduced the RAPid Tooling Components to the manufacturing industry. Rentapen's line of RAPid Tooling Components™ consists of RAPid Blocks™, RAPid Risers™, RAPid Plates™ and RAPid Shims™.
"We are excited to be part of this conference and to support the AWS scholarship program," said President of Rentapen, Susan Straley. "A lot of manufacturing education occurs through these tours, presentations, and weld related exhibits."
The last day of the conference will be on June 5, 2013 and it will start with viewing manufacturing exhibits at MATC bright and early in the morning. Participants will then have a chance to see any demonstration that they missed from the previous day. Participants will also take a tour of Joy Global and their welding lab facility. Participants will take a tour of the small component value stream which consists of automation fit and tack facility. For more information about the conference you can visit the American Welding Society website or call Karen at (262) 613-3790.
Featured Product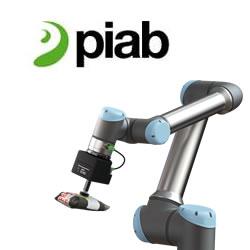 Piab's Kenos KCS gripper enables a collaborative robot to handle just about anything at any time. Combining Piab's proprietary air-driven COAX vacuum technology with an easily replaceable technical foam that molds itself around any surface or shape, the gripper can be used to safely grip, lift and handle any object. Standard interface (ISO) adapters enable the whole unit to be attached to any cobot type on the market with a body made in a lightweight 3D printed material. Approved by Universal Robots as a UR+ end effector.