Second Annual Event to Feature Dozens of Hands-On Space and Technological Exhibits
Worcester, MA June 05, 2013

Worcester Polytechnic Institute (WPI) is once again bringing the future to life this weekend, and New England's families can join in the fun.
TouchTomorrow, now in its second year, is a free event held on the WPI campus composed of hands-on exhibits and activities focused on our scientific and technological future. The activities and exhibits are designed to be enjoyed by all ages, with an emphasis on inspiring children and young adults to see how thrilling and fun science and technology can be.
TouchTomorrow follows the NASA Sample Return Robot (SRR) Challenge, a Centennial Challenge competition. Also in its second year on campus, the competition - held over three days leading up to the festival - brings a prize purse of $1.5 million. The SRR Challenge calls for teams of roboticists to build, program, and demonstrate robots that can locate and retrieve geologic samples from a wide and varied terrain- without human control. WPI is the first university NASA has partnered with to manage a Centennial Challenge, and the SRR Challenge is the first of these competitions to be held east of the Mississippi. Eleven teams from across the United States and abroad are coming to WPI in hopes that their robots will maneuver a difficult course and obtain the cached samples successfully.
"At WPI, we are passionate about the mission to promote and advance science and technology education to students at the K-12 levels," said WPI Provost Eric Overström. "TouchTomorrow is designed to inspire young people, their families, and their teachers through exposure to and interaction with advanced aerospace and robotics technology."
TouchTomorrow attendees can participate in a number of exciting outdoor and indoor exhibits and activities sponsored by groups such as NASA, Boston's Museum of Science, Worcester Historical Museum, Discovery Museum, iRobot, and Siemens. Attendees can explore and engage research projects being conducted by WPI faculty and students and meet NASA astronaut Stephen Bowen. Bowen flew on the Endeavour space shuttle in 2008, Atlantis in 2010, and Discovery in 2011.
Among other activities for attendees:
*Explore NASA's interactive Space Launch System exhibit
*Investigate the lifecycle of a star
*Have a photo taken in a NASA spacesuit
*Trek across the lunar surface with NASA's Lunar Quest
*Learn about WPI's research in human-robot interaction, body-brain computer interfaces, and soft robotics
*Build a water balloon brain
*Make slime
*"Kinect" with a NASA virtual robot
*Take the paper airplane design challenge
*Command the NASA Marcbot
*See a model of the Mars rover Curiosity
*See WPI's surgical robots designed to be guided by live MRI imagery
*Check out WPI's NASA-sponsored research on heat transfer in space
*See WPI student project work in robotics, assistive technology, game design, and interactive media.
For more information about TouchTomorrow, visit the TouchTomorrow website.
NASA and the Sample Return Robot Challenge
NASA's Centennial Challenges were created to
*drive progress in aerospace technology of value to NASA's missions;
*encourage the participation of independent teams, individual inventors, student groups and private companies of all sizes in aerospace research and development; and
*find the most innovative solutions to technical challenges through competition and cooperation.
The Sample Return Robot (SRR) Challenge will require the 11 competing teams to design and build an autonomous robotic system that will locate and collect a set of specific sample types from a large area and then return the samples to the starting zone. The roving area will include a variety of terrains and hazards. A pre-cached sample and several other samples will be located in smaller sampling zones within the larger roving area. Teams will be given aerial/geological/topographic maps with appropriate orbital resolution, including the location of the starting position and a pre-cached sample.
*A Level-1 prize will be awarded to the team whose robot autonomously navigates at all times and retrieves a pre-cached sample within the 30-minute time limit.
*To win a Level-2 prize, a robot must autonomously navigate at all times and must retrieve the pre-cached sample and other samples distributed over the roving area within the two-hour time limit.
*A total prize purse of $1.5 million is available from the Centennial Challenges Program.
NASA prize competitions establish an important goal without having to choose the approach or the team that is most likely to succeed, while only paying for results. NASA prize competitions also increase the number and diversity of individuals, organizations, and teams that are addressing a particular problem or challenge of national or international significance, while stimulating private sector investment that is many times greater than the cash value of the prize. Prizes also capture the public imagination and change people's perception of what is possible.
For more information about the NASA SRR Challenge, visit the NASA SRR Challenge Website.
About Worcester Polytechnic Institute
Founded in 1865 in Worcester, Mass., WPI is one of the nation's first engineering and technology universities. Its 14 academic departments offer more than 50 undergraduate and graduate degree programs in science, engineering, technology, business, the social sciences, and the humanities and arts, leading to bachelor's, master's and doctoral degrees. WPI's talented faculty work with students on interdisciplinary research that seeks solutions to important and socially relevant problems in fields as diverse as the life sciences and bioengineering, energy, information security, materials processing, and robotics. Students also have the opportunity to make a difference to communities and organizations around the world through the university's innovative Global Perspective Program. There are more than 30 WPI project centers throughout North America and Central America, Africa, Australia, Asia, and Europe.
Featured Product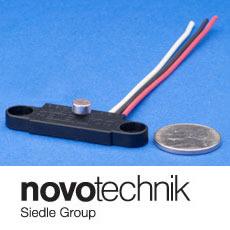 Vert-X 05E Series of dual angle/speed sensors. The series features easy mounting in small and narrow spaces with a 5 mm body depth and mounting flanges with metal inserts. The sensors make measurements only 6 mm from edge of product for close-to-wall measurement applications. Vert-X 05E Series sensors measure angles from 0 to 360°, rotational speed and direction with repeatability to 0.1°.