Ace Drive I-Series Adds mSATA to Support More Industrial Applications
FREMONT, California, USA - June 6, 2013 - BiTMICRO announced today the addition of mSATA to their Ace Drive™ I-Series product line. mSATA Ace Drives are targeted at rugged laptop and tablet applications, navigation systems, outdoor electronic machines, medical computers and industrial automation systems.

Built to meet industrial requirements for ruggedness and reliability, Ace Drive I-Series mSATA SSDs can withstand a wide range of temperatures (-40° to 85°C), altitude (80,000 ft), humidity (5%-95%), shock (1,500G) and vibration (5-500Hz at 3.1G).
"mSATA is really growing in importance in industrial applications as customers demand smaller and smaller form factors. We're serious about creating products that cater to industrial applications and mSATA is part of that blueprint," said Zophar Sante, VP of Worldwide Sales and Marketing.
Ace Drive I-Series mSATA is available in capacities of 64GB and 128 GB. Ace Drive I-Series SSDs support S.M.A.R.T., Native Command Queuing (NCQ) for up to 32 commands, TRIM command support and dynamic/static wear leveling for extended endurance. An additional one-key intelligent destruction security feature prevents third-party data retrieval for customers in need of added security.
About BiTMICRO
BiTMICRO®, a privately-held California corporation with a multinational presence and over 270 employees worldwide, was founded in 1995 and is a leading developer and manufacturer of flash-based SSD (solid state drive) technology, products and solutions. BiTMICRO uniquely uses its own patented technology and has been shipping SSDs for over 10 years. BiTMICRO products are reliable, durable, low energy and space efficient. BiTMICRO is best known for delivering the extreme performance and data integrity required for all enterprise, industrial and military environments. Today, BiTMICRO products are available as SSD products or as embedded technology. BiTMICRO is headquartered in Fremont, CA, USA and has subsidiaries in the Philippines and India.
To learn more please visit: http://www.bitmicro.com.
Featured Product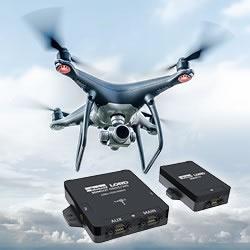 The C-series high performing inertial sensor package provides an OEM form-factor that is optimized for size and weight in Off Highway, Unmanned Ground Vehicles/Mobile Robots and Unmanned Aerial Systems. It's compact and low-profile anodized aluminum housing can be connected directly to a printed circuit board using a UART header or a Samtec FFSD ribbon cable and 2-56 fasteners.