Chris O'Ferrell named chief technology officer, Tempy Wright named vice president of marketing and communications
RESTON, Va. -June 11, 2013- QinetiQ North America today announced the appointment of Chris O'Ferrell as chief technical officer (CTO) and Tempy Wright as vice president of marketing and communications of its wholly owned subsidiary, Cyveillance, Inc., a leading provider of cyber intelligence solutions. As CTO, O'Ferrell is responsible for the group's technical vision and leading all aspects of technology development, and Wright is responsible for developing and executing the group's marketing and communications strategy.

"We are pleased to add such seasoned leadership to the executive team to take our marketing and technical initiatives to the next level," said Scott Kaine, President of Cyveillance. "Enterprises urgently need to protect their people, infrastructure, and physical property, as well as respond to online threats faster and understand the actors behind them. Chris and Tempy have many years of experience working with both corporate and federal organizations, and are passionate about developing security solutions to help keep our clients and their customers safe."
O'Ferrell joined Cyveillance as vice president of security and response services in 2012. He has more than 23 years of experience in the security industry, and has held senior management positions with a number of companies prior to joining Cyveillance, including Booz Allen Hamilton, CSC, SAIC, TRW, Verizon Business, and NetSec. He also successfully built, operated, and sold several security software and service companies. O'Ferrell worked with the Federal Bureau of Investigation (FBI) to design and implement security solutions for several high profile projects and technologies and has also served as a senior advisor to the FBI, the U.S. Treasury, and other U.S. agencies.
Prior to joining Cyveillance, Wright led enterprise and Fortune 500 marketing strategy for Dell SecureWorks, which provides managed security solutions, incident response services, and security and risk consulting. She also spent more than nine years at VeriSign, Inc., where she led marketing efforts for a variety of brand protection and security services, including managed security services, threat intelligence, and the launch of the company's DDoS monitoring and mitigation solution. She held senior marketing positions at multiple technology startups prior to VeriSign.
About Cyveillance
Cyveillance, a world leader in cyber intelligence, provides an intelligence-led approach to security. Through continuous, comprehensive Internet monitoring and sophisticated analysis techniques, Cyveillance proactively identifies and eliminates threats to information, infrastructure, individuals and their interactions, enabling its customers to preserve their reputation, revenues and customer trust. Cyveillance serves the Global 2000 and OEM Data Partners-protecting the majority of the Fortune 50, regional financial institutions nationwide, and more than 100 million global consumers through its partnerships with security and service providers. Cyveillance is a wholly owned subsidiary of QinetiQ North America. For more information, please visit www.cyveillance.com or www.qinetiq-na.com.
About QinetiQ North America
QinetiQ North America (QNA) is a subsidiary of QinetiQ Group plc, the FTSE250 company listed on the London Stock Exchange (LSE:QQ.L). Operating in North America, QNA delivers world-class technology, responsive services, and innovative solutions for global markets, focusing on U.S. government and commercial customers. Its engineers, scientists and other professionals deliver high quality products and services that leverage detailed mission knowledge and proven, reliable tools and methodologies to meet the rapidly changing demands of national defense, homeland security and information assurance customers. QNA is headquartered in Reston, Virginia. For more information visit www.qinetiq-na.com and join our conversation at www.facebook.com/qinetiqna.
Featured Product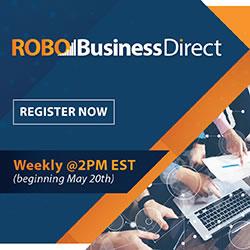 RoboBusiness Direct is built to foster robotics innovation in all its forms, expand robotics business opportunities, and build a community of like-minded problem solvers with the goal of driving the growth of robotics businesses. More than a webinar or virtual event, RoboBusiness Direct is an ongoing, integrated series of presentations and media coverage delivered by brightest minds from the leading robotics and automation companies from around the world - Nuro, FedEx, Lockheed Martin, Samsung, Siemens and more.