Research results reveal the Japanese cuteness culture is spreading around the globe. It connects with the people in all layers of society in Asia, US, and Europe. Robert M Wenzel Director of London Global Laboratories, put together guidelines for its clients how to use this phenomenon to improve Human-Robot-Interaction and Robotic-Design for both personal and industrial robots.
London, UK 13 June 2013

Recent studies show the time of pure functional designs is over, even for robotic systems. According to a study published in 2012 by Hiroshima University, looking at cute images can enhance concentration and even promote more careful behavior. Furthermore, recent research results published by Leiden University Netherlands underpin the apparent trend of Japanese cuteness culture among the western societies. "The robotic-design and the Human-Robot-Interaction have to become more cute and emotional in both appearance and interaction. It makes the connection and interaction between people and robotic systems easier and better," says Robert M Wenzel, Expert in future technologies and tomorrows business.
For years, pure functional design has been the method of choice for designing robotic systems. Just the solution of the problem counted. "However, today's progress in new technologies enables robotic to enter new markets that requires more than the obsolete pure functional design," says Wenzel.
"Twenty years ago you could build a functional system and be very successful. These days, new and innovative ways are required to be attractive for your audience in particular for in the personal robots market," he said.
Since starting working in robotics more than 15 years ago, several robotic products had been implemented according to his principle "pure functional design is not enough" and became successfully around the world. As he points out, however, the shift away from pure functional design is difficult for many to accept.
"In most companies, pure functional design is the sole method of developing new systems. Managers and developers simply haven't accepted the reality that more is needed for personal and industrial robots to be successful," says Wenzel.
Wenzel cites numerous examples how robotics can overcomes pure functional design. He points out: It is important for personal robots that they will be loved like companions comparable to cats and dogs. "Hereby cuteness is the main factor that connects people with the robot emotionally," he states.
The latest trends in the robotic industry are supportive robots, which are co-working systems. Those systems are in a continuous communication with humans and have to deal with the emotions of them in both sending and receiving them. Here a pure functional design will not be enough to be accepted. "Such systems have to be 'lovable' in appearance and interaction," points the expert out.
For more information, or to obtain the guidelines, please visit the webpage http://www.LondonGlobalLaboratories.com and contact Robert M Wenzel.
About London Global Laboratories
Founded in 2012, by Robert M Wenzel, London Global Laboratories is recognised for being experts in commercialising research, future technologies, and tomorrow's business. With more than 20 years of experiences and a series of strong achievements, ranging from a world leading medical laboratory automation system to being co-founder & CEO of the award-winning company denro AG Robert M Wenzel advise at the intersection between business and technology. He combines leading business strategies and a comprehensive and proven methodology to shape the future and commercialise R&D successfully. London Global Laboratories offers consulting and seminars, and provides its network of high qualified specialist to help its clients creating world leading products and services. For more information please tweet to @RobWenzel, send an email Robert(at)LondonGlobalLaboratories(dot)com, and visit the webpage http://www.LondonGlobalLaboratories.com.
Featured Product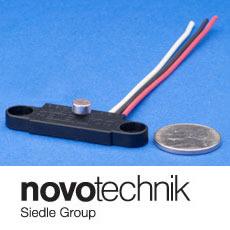 Vert-X 05E Series of dual angle/speed sensors. The series features easy mounting in small and narrow spaces with a 5 mm body depth and mounting flanges with metal inserts. The sensors make measurements only 6 mm from edge of product for close-to-wall measurement applications. Vert-X 05E Series sensors measure angles from 0 to 360°, rotational speed and direction with repeatability to 0.1°.