A recent internal Canadian government audit revealed the country's offshore spill response system is outdated, disorganized, and in need of an overhaul.
Despite warnings contained in reports dated back to 2010, little action has been taken. At present, it is estimated 83% of Canada's offshore oil spill response technology is outdated.

"Although operationally ready to respond, most of the assets held by the (emergency response) program average 25 or more years in service and have either become obsolete or are coming to the end of their useful life," said a recent report of the Environmental Response Capacity Definition Project.
Systems such as the Scout airborne early response oil spill mitigation technology could provide a solution.
"Scout Exploration's airborne early response system represents a generational advance in spill response technology, and could provide a solution to Canada's current problem," said project developer Rene Lange. By reaching a drill rig or tanker spill sooner, the Scout system limits spread and corollary environmental and economic damage.
Air deployed, Scout's remote, unmanned system can be in the water surrounding a spill in a matter of hours, compared to days using current, outmoded systems.
Concerns over offshore oil spills into Canadian waters have come to the fore with the proposed Northern Gateway pipeline project that would carry bitumen from Alberta to the British Columbia coast to be shipped by tanker to Asia. Seen as pivotal to Canada's economic prosperity, the project has met with strong opposition based in part on concerns over potential damage resulting from coastal region oil spills.
"We see the Scout system, located strategically along Canada's coastline, in a networked configuration, as a viable option going forward, especially in environmentally sensitive regions such as BC or the far north," Lange says.
The Scout airborne remote unmanned offshore oil spill response system has been developed in part with the support of Government of Canada facilities at the Canadian National Research Council Institute for Ocean Technology, St John's, Newfoundland since 2008.
Source: http://www.scoutexploration.com
Featured Product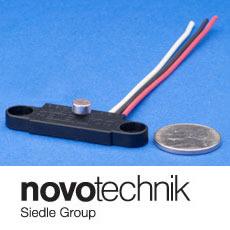 Vert-X 05E Series of dual angle/speed sensors. The series features easy mounting in small and narrow spaces with a 5 mm body depth and mounting flanges with metal inserts. The sensors make measurements only 6 mm from edge of product for close-to-wall measurement applications. Vert-X 05E Series sensors measure angles from 0 to 360°, rotational speed and direction with repeatability to 0.1°.