Third annual festival on June 29-30 attracts national speakers, 300 makers/exhibitors
June 27, 2013

As Maker Faire: Kansas City gears up to showcase makers, creators, innovators and inventors from the Midwest at Union Station Kansas City this weekend, those involved in the Maker movement around the globe will be taking note. Since the Ewing Marion Kauffman Foundation brought the first Maker event to the city in 2011, Maker Faire: Kansas City has nearly tripled in size-both in number of makers and attendees.
It is one of the eight largest events in the Maker Faire worldwide network and is designated as a "featured" faire, along with Detroit, Rome, Tokyo, and Newcastle, U.K.
On June 29-30, Maker Faire: Kansas City will give more than 300 makers the opportunity to "show and tell" the public their creations and innovations in the areas of technology, robotics, electronics, pyrotechnics, engineering, printmaking, art and craft making, and custom cars and bikes. In addition to, perhaps, showcasing the next great innovations in science, technology and engineering, the faire also may spark interest in entrepreneurship in Kansas City.
"Maker Faire is a fun and inspiring event for families and individuals to see first-hand what others are making as hobbyists or for a career," said George Guastello, Union Station President and CEO. "Union Station hosts this event because it offers such a great opportunity to demonstrate the invention, innovation and creativity happening in our home community and region. It also helps connect entrepreneurship and education so students can see various skills they can develop and how they can use their own creativity to design inventions and products of the future. This event is sure to inspire making in all who attend."
In addition to 300 makers exhibiting and demonstrating their products and technologies, Maker Faire: Kansas City in 2013 has attracted a number of national speakers, all of whom are highly involved in the Maker movement that is going global. Among them are:
*Matthew Burnett and Tanya Menendex, founders of Makers Row, a factory sourcing company;
*Shannon Dosenmagen of the Public Laboratory for Open Technology and Science;
*David Lang, founder of Open Rov, which makes open-source underwater robots, and author of Zero to Make, a new book to be released in September;
*Sabrino Merlo, the leader of Maker Media, which originated the Maker Faire concept; and
*Lesa Mitchell, Kauffman Foundation vice president, innovation and networks.
Speaker presentations will be webcast at http://www.makerfairekc.com/live throughout the weekend event.
Two national sponsors-AutoDesk, a leader in 3-D printing technologies, and ShopBot Tools, maker of affordable, industrial-grade CNC routers-will offer large-scale demonstrations of their products. Kansas City represents the first featured Maker Faire; the two companies have attended as sponsors. The Kauffman Foundation continues as the Kansas City faire's primary sponsor.
"A steady contingent of garage or kitchen tinkerers is using easily accessible resources that are now affordable and sized for the home," said Mitchell. "You can design, build and print art, robots and even car parts in a way that was previously not possible except in labs or manufacturing facilities. Once a year, Union Station is privileged to host Maker Faire and be a destination of choice for kids and adults who want to engage in designing and making things that just might end up in an entrepreneurial endeavor."
Maker Faire: Kansas City is a community-organized event. Information on hours, ticket prices, exhibitors, speakers and special events are available at http://www.makerfairekc.com.
About Maker Faire: Kansas City
Maker Faire: Kansas City is organized by Union Station Kansas City, in conjunction with Maker Media. Maker Faire is one component of a long-range plan to promote education in the science, technology, engineering and math (STEM) fields. Union Station will regularly convene educators, business leaders, not-for-profit organizations and students to share lessons and combine efforts among local groups to highlight STEM education. In addition, Union Station and Science City are preparing a year-round Young Makers Studio Space to allow access to Making and STEM education through special events and field trips focused on robot building, engineering, inventing and more. Ewing Marion Kauffman Foundation has been the founding sponsor for all three years. This year's sponsors include AutoDesk, ShopBot Tools, Motorola, DeVry University, Smooth-On and Reynolds Advanced Materials.
About Union Station Kansas City, Inc.
Union Station Kansas City is a historical landmark and civic asset, which originally opened in 1914 and was renovated and reopened to the public in 1999. The organization, driven by its mission of science and history education and entertainment, features Kansas City's science center, Science City; the Regnier Extreme Screen Theatre, one of the region's largest 3D movie theatres; the Goppert Planetarium; the popular Model Railroad Experience open year round, live theater, shops, restaurants and home to prominent area civic organizations and businesses. For details, visit http://www.unionstation.org.
About Maker Faire Nationally and Internationally
The launch of Maker Faire in the Bay Area in 2006 demonstrated the popularity of making and interest among legions of aspiring makers to participate in hands-on activities and learn new skills at the event. A record 165,000 people attended the two flagship Maker Faires, in the Bay Area and New York, in 2012 with 44 percent of attendees being first-timers at the Bay Area event and 61 percent in New York. In 2013, more than 78 community-driven Mini Maker Faires are expected around the world, including Tokyo and Rome. For more information, visit http://www.makerfaire.com.
Featured Product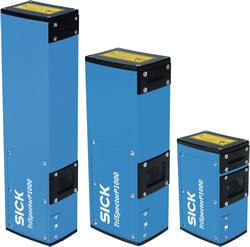 LiDAR (Light Detection and Ranging) is one of the most reliable methods for parts sensing in factory automation today. SICK has made this technology affordable and easy to use! Click on the video link below to learn about the TiM1xx LiDAR sensor and how it provides: - Area scanning LiDAR technology in a standard sensor package - 200-degree field of view and 3 meter sensing range allows for 169 square feet of area scanning - Compact size and light weight enables ease of deployment in "non-standard" type applications, like end-of-arm robotic tooling - Wide area scanning without having to mount a transmitter and receiver makes installation much easier - IO Link for easy configuration