Clute Packaging Systems offers packaging solutions for industry and agriculture enterprises in Ontario.
Manufacturers often require products and services that are unique to the nature of their activities. When this is the case, it is a good idea for them to work with firms that specialize in delivering the things that they need in order to operate effectively. A Stretch Wrapping Machine and a Shrink Wrapping Machine are among those items that many companies use in carrying out their business processes.

Clute Packaging Systems Ltd. Offers a variety of packaging systems for industry and agriculture; and stretch wrapping and shrink wrapping machines are among the wide range of products that they sell. The company has locations in Ontario Canada. It partners with firms such as Orion Packaging and Polychem to effective, low cost packaging solutions to business operating throughout Ontario.
Clute Packaging Systems sells a number of products and services, including machine systems, strapping, stretch film, shrink film, tape, stapling and stitching, and hot melt adhesives. It is a good idea to work with a packaging service that you can rely on and trust. Getting the right packaging and logistic services can often be of great importance to your business. It is incumbent that companies that ship certain materials adhere to government safety laws and regulations. The last thing that any manufacturer or distributor wants to have to deal with is charges related to the violation of federal law and policy. The best way to minimize the risk of such a thing occurring is to work with a company that has a staff that well understand the letter and spirit of the law.
Clute Packaging Systems has highly trained professionals who are experts in handling your package and making sure that it goes through a proper packaging process. The company ensures that each package is managed as an individual case, and that it is given the packaging that it requires. It is important to remember that not all packaging firms deliver the same quality of service and value. Clute Packaging Systems prides itself on its world class service and second-to-none delivery of packaging products. The company has partnered with certified professional engineers, millwrights, and electricians to give you complete service and satisfaction. The firm offers onsite consulting assistance, including machine risk assessment and a full engineering prestart review. Trust and confidence are the cornerstones of any good business relationship. Clute Packaging Systems considers this idea to be at the core of its mission and service.
Fortunately, it is not that difficult to find out for yourself all that Clute Packaging Systems has to offer or to contact the company to make inquiries or for an assessment. The company is easily found on the worldwide web, where you will be able to review the various products and services that it offers and decide for yourself whether working with Clute Packaging is the right move for your business. The web also enables you to contact the company in the way most convenient to you.
Clute Packaging Systems offers a unique service to manufacturers and distributors throughout the province of Ontario.
For more information please visit http://www.clutepackaging.com/
Featured Product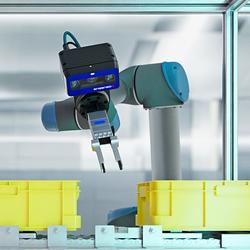 App Your Sensor®! What would smartphones be without apps? They would be mobile phones that can't do much more than make phone calls and sending SMS. Apps turn smartphones into intelligent assistants with any number of different tasks. Transferred into the world of image processing, this app-based approach transforms cameras and sensors into customised, smart vision sensors.