The latest release of the PlantPAx process automation system from Rockwell Automation allows companies across multiple industries to improve operator effectiveness with automated procedures, enhanced visualization and new skid-integration capabilities.
The system's new sequencer tool enables companies to easily automate process procedures, perform system modifications, and sequence actions directly through human-machine interface (HMI) faceplates. If a process change is necessary or an abnormal event occurs, a user with the appropriate login privileges can modify the sequence directly from the HMI screen, rather than waiting for a control system expert to modify the procedure code.

"The new PlantPAx sequencer tool eliminates the need for custom-coded configurations to automate procedures for continuous processes," explained Jason Wright, PlantPAx product manager, Rockwell Automation. "It's intuitive, user-friendly interface helps operators see and understand the information they need, and makes procedures repeatable and easier to track."
The PlantPAx system further extends operator effectiveness with a comprehensive HMI toolkit for effective display design and enhanced standards-based alarming. This allows the operator to focus directly on the process itself, reducing system downtime and incidents. The latest PlantPAx system also features an enhanced independent workstation (or network station) that offers companies more flexibility in plant design - especially when integrating best-of-breed skids into multiple plants worldwide.
"There is an industry trend to leverage process skids for quicker line and plant expansion to help reduce time-to-market," Wright said. "However, integrating these process skids into a traditional distributed control system (DCS) can create complexities and increase costs. In fact, for a traditional DCS, integration accounts for 50 to 60 percent of the project costs for end users."
For example, skid integration often requires custom data-mapping or duplicated code on the DCS. This is not the case with the PlantPAx system - the skid-based controller can be added as a native controller to the system. Enhanced independent workstation capabilities help reduce the cost of integration by allowing the skid to share common infrastructure resources, such as user accounts and security settings, without losing application independence. This allows companies to leverage the specific application expertise of multiple skid vendors while providing a consistent operator experience.
These features further enhance the PlantPAx system, which integrates process control, power, information and safety together into one infrastructure. Combined, these reduce the total cost of ownership, and enable a highly distributed and cost-effective system.
Featured Product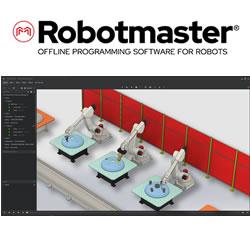 Since Robotmaster V7 uses integrated CAD/CAM functionality, for the first time, the power of Robotmaster can be used by welding, cutting and other process experts without buying or learning complex CAD/CAM software. As in past versions, Robotmaster V7 imports paths, but now makes it even easier for end users to leverage any CAD/CAM tool choice. It is an intuitive tool that anyone could use, with or without robotics expertise. It bridges the gap between robots and manufacturing by providing easy programming solutions for part manufacturing.