Hospital in Memphis Acquires Mazor Robotics' Renaissance System; Represents First System Install in the State of Tennessee and the Fifth System in the major U.S. hospital corporation
CAESAREA, Israel--Mazor Robotics Ltd. (TASE: MZOR; NASDAQCM: MZOR), a developer of innovative surgical robots and complementary products, today announced that it has received its first follow-on order from a major U.S. hospital corporation for the Renaissance system. The system will be installed in a full-service hospital located in the East Memphis area that is a leading medical center in the mid-south.

The purchase order for the Renaissance system was received on June 28, 2013 and represents the fifth system acquired by a major U.S. hospital corporation, which acquired its first four Renaissance systems earlier in the year.
"We are pleased to have received our first follow-on order from a major U.S. hospital corporation, reinforcing the benefits our Renaissance system is able to achieve from a clinical and economic proposition," commented Ori Hadomi, Chief Executive Officer. "Furthermore, this is also our first Renaissance in Tennessee and we are excited to be associated with a medical center that has a rich history in the mid south US region. Our system will enable the hospital to meet its mission statement of healing, supporting, and comforting the patients it cares for in a superior surgical environment."
Renaissance, Mazor Robotics' surgical guidance system for spine procedures, has been used to perform thousands of procedures worldwide (with over 35,000 implants placed in those procedures) for a wide variety of spinal conditions, many of which would not have been attempted without this technology. Renaissance is transforming spine surgery from freehand operations to highly-accurate, state-of-the-art guided procedures that raise the standard of care with better clinical results.
About Mazor
Mazor Robotics (TASE: MZOR; NASDAQCM: MZOR) is dedicated to the development and marketing of innovative surgical robots and complementary products that provide a safer surgical environment for patients, surgeons, and operating room staff. Mazor Robotics' flagship product, Renaissance™, is a state-of-the-art surgical robotic system that enables surgeons to conduct spine surgeries in an accurate and secure manner. Mazor Robotics systems have been successfully used in the placement of over 35,000 implants in the United States and Europe. Numerous peer-reviewed publications and presentations at leading scientific conferences have validated the accuracy, usability, and clinical advantages of Mazor Robotics technology. For more information, please visit www.mazorrobotics.com.
Featured Product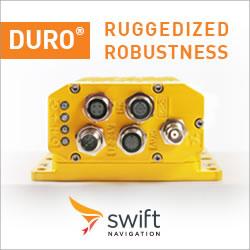 Duro® is a ruggedized version of Swift Navigation's Piksi® Multi RTK GNSS receiver. Built to be tough, Duro is designed for easy integration into existing equipment. This affordable, easy-to-deploy GNSS sensor delivers robust, centimeter-accurate positioning while protected against weather, moisture, vibration, dust, water immersion and the unexpected that can occur in outdoor long-term deployments.