Kansas State University demonstrated how unmanned aircraft can benefit agriculture
Officials from Kansas State University demonstrated how unmanned aircraft can benefit agriculture, flying two types of UAS that can be used for crop monitoring, pest evaluation, rangeland assessment and harmful algae blooms.

The demonstration, held 2 July, was conducted at the state's Crisis City facility near Salina, which has various manmade and natural disaster scenarios and is used for first responder training.
The KSU officials flew a homegrown fixed-wing aircraft the school is developing as a commercial product for farmers and an off-the-shelf Aeryon Scout quadrotor. KSU also demonstrated another student-developed aircraft.
As AUVSI's recent economic forecast indicated, UAS are expected to have a huge impact in the world of agriculture, which is expected to be the largest commercial market for the systems.
Kevin Price, professor of agriculture, nature resources, remote sensing and GIS at the KSU Department of Agronomy and Department of Geography, says it makes sense to develop low-cost systems aimed at farmers because of the efficiency and cost savings they can provide.
Such systems can be used to not only evaluate crop yields but also do so much faster than traditional methods.
"We can tell them [farmers] which plots are going to be their best-yielding plots" so they can focus on those and not waste time on the others, he said.
Evaluating crops by foot can take 1,500 hours, whereas the Zephyr II flying-wing UAS the school has developed can cover hundreds of acres in minutes, while costing as little as $5,000.
Deon van der Merwe, head of the Toxicology Section at the College of Veterinary Medicine and a radio controlled aircraft hobbyist, modified a commercial RiteWing UAS aircraft for agricultural use. It employs a commercial point-and-shoot digital camera, modified to shoot infrared imagery, and a GoPro video camera.
"Our goal here is to build as inexpensive aircraft as possible … so that farmers can get aircraft to monitor their fields," Price said.
U.S. Sen. Jerry Moran later joined KSU leaders and AUVSI President and CEO Michael Toscano to highlight the demonstrations and the impact unmanned aircraft are expected to have on the economy of Kansas.
Moran said Kansas is both the aviation state and "the state that feeds the world," and noted that these two attributes come together in the form of unmanned aircraft.
He noted that he co-chairs the Senate Hunger Caucus, which advocates for food programs, particularly in emergencies, "but mostly my interest is how we apply technology to increase the production of agriculture, which is already very productive," he said. "What can we do to feed and provide energy and clothing to a hungry world?"
He said one of his last earmarks in the Senate, before such practices fell out of favor, went to KSU to help develop the unmanned aircraft program. Moran said he hopes it will help train young technologists who can then keep their skills in the state.
The afternoon session included another demonstration of the Aeryon Scout, which flew a crop monitoring pattern at 150 feet altitude. Mark Blanks, the UAS program manager for KSU's Applied Aviation Research Center, noted that about 20 acres were imaged a very high resolution in just a few minutes, with little drama.
"The point was, it is non-spectacular, and I'm proud of that," he said.
Featured Product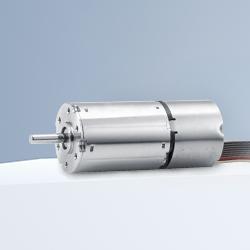 MICROMO launches the new MC3/MCS motion control family. The new high performance, intelligent controllers are optimized for use with FAULHABER motors, offer electronics for simple operation with state-of-the-art interfaces for multi-axis applications, and provide a motion control system solution with the most compact integration into industrial grade housing.