The contract was awarded in Raytheon's second quarter of 2013.
Raytheon Company was awarded a contract with the U.S. Naval Air Systems Command (NAVAIR) to build an integrated multi-INT system to safeguard forward deployed forces. The Persistent Surveillance System Cross Domain Solution (PSS CDS) gives warfighters an advantage by providing a complete picture of impending threats, from both classified and unclassified sources. The contract was awarded in Raytheon's second quarter of 2013.

"The PSS CDS is a proven solution and one that offers protection to our warfighters in hostile, remote environments by granting them real-time access to secure, multi-domain intelligence, surveillance and reconnaissance data," said Mark Kipphut, Tactical Intelligence Systems director for Raytheon's Intelligence, Information and Services business. "What makes this system unique is its game-changing capability to quickly share data between classified and unclassified environments."
The PSS CDS, a software package small enough to mount onboard an aircraft, transfers sensor data, high-definition surveillance video, and traditional and non-traditional ISR imagery, as well as situational awareness data, to give warfighters a complete picture of impending local threats, including an improvised explosive device or a group of insurgents. Additionally, the system protects U.S. forces by gathering intelligence from hundreds of miles away using sensors on aerostats, towers and unmanned aerial vehicles, allowing warfighters to make confident and informed decisions in real-time.
Background
In August 2012, NAVAIR and the U.S. Army Aviation and Missile Research Development and Engineering Center (AMRDEC)'s Precision Fires Management (PFM) program completed a test of Raytheon's PSS CDS, with the successful live fire of two Raytheon Griffin missiles.
Source: http://www.raytheon.com
Featured Product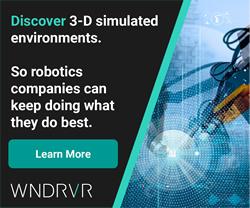 Develop new robotic capabilities with ROS 2 for VxWorks. ROS 2 for VxWorks® project provides custom modifications and build scripts to integrate the Robot Operating System 2 (ROS 2) framework with VxWorks 7. ROS 2 is a set of software libraries and tools that aid in building robot applications. Build ROS 2 for VxWorks using 1) with a VxWorks SDK that is available on the site under a free non-commercial use license; or via 2) with a commercially-licensed VxWorks product.