High speed and low cost pick and place ROBOTS | vision controlled | by usb Tablet or Pc.
Pick and place robot. Aluminium rail 140mm, Length until 1m.

Custom program easy to write in Matlab language.
Travel x 800mm max
Travel y 160mm
travel z 50mm
Speed 60 pieces/ minute from alternate positions ( for short travels 300mm)
For fixed positions some faster.
Servo Ac motor 400W, 315VDC, more two stepper motors.
About 30Kg.
Power supply 220-240VAC 50-60HZ, 5A.
Needs air supply for the gripper or suction cup (an small compressor is enough 1CV)
Price $3300 USD
Include slide + motors + all control + tablet + program + camera with lens + two grippers.
Featured Product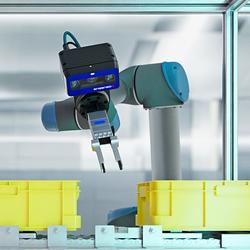 IDS NXT: a platform for a new generation of vision systems for industrial applications. It lays the groundwork to provide easy-to-use yet flexible complete systems that can be used to implement all steps of a vision solution. With IDS NXT ocean, a complete solution especially for AI-based image processing is now available. It allows to solve tasks where classic, rule-based image processing has reached its limits - without any programming effort.