High speed and low cost pick and place ROBOTS | vision controlled | by usb Tablet or Pc.
Pick and place robot. Aluminium rail 140mm, Length until 1m.

Custom program easy to write in Matlab language.
Travel x 800mm max
Travel y 160mm
travel z 50mm
Speed 60 pieces/ minute from alternate positions ( for short travels 300mm)
For fixed positions some faster.
Servo Ac motor 400W, 315VDC, more two stepper motors.
About 30Kg.
Power supply 220-240VAC 50-60HZ, 5A.
Needs air supply for the gripper or suction cup (an small compressor is enough 1CV)
Price $3300 USD
Include slide + motors + all control + tablet + program + camera with lens + two grippers.
Featured Product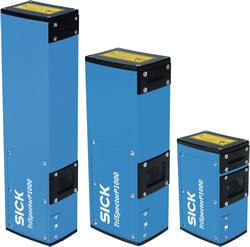 Take your quality inspections to the next level with tailor-made 3D solutions from SICK, Inc. The TriSpector1000 is a stand-alone, configurable 3D vision sensor that reliably inspects objects regardless of variations in color, height, shape, or position. It is suited for solving quality control issues and can be used for volume & thickness measurement and inspection of box integrity. Check out SICK's quality inspection solutions at Pack Expo 2019 in Booth #LS-6419.