Clearpath Robotics Announces Exclusive North American Distribution of JACO Robot Arm for Research Market
(Kitchener, Ontario - July 9, 2013) Clearpath Robotics announced today that they have partnered with Kinova Robotics as the exclusive North American distributor of their internationally recognized JACO Robot Arm. This partnership also brings ROS integration to the JACO Robot Arm to help advance the manipulation research community .

"We're excited to work with Clearpath Robotics and provide our partners with the JACO Robot Arm," said Charles Deguire, Chief Executive Officer at Kinova Robotics. "This partnership will help bring high quality manipulator research solutions to our research customers."
The JACO Robot Arm is ideally suited for advanced mobile manipulation, human-robot interaction and manipulator control system research. JACO is light-weight, power efficient and inherently safe - enabling researchers to interact with their research environment safely and effectively. JACO can also be easily outfitted as a manipulator upgrade to Clearpath Robotics' industry-standard Husky Unmanned Ground Vehicle.
"Manipulators and mobile robots are a natural fit for integration. We are thrilled to partner with Kinova to offer advanced mobile manipulation research systems. We are both recognized experts in our respective fields, so we know our customers will be as excited as we are about this partnership," said Matt Rendall, Chief Executive Officer at Clearpath Robotics.
JACO Robot Arm is now available at Clearpath Robotics and additional details can be found at http://www.clearpathrobotics.com/jaco. The ROS driver for the JACO Robot Arm is available for free at https://github.com/Kinovarobotics/jaco-ros.
About Kinova Robotics
Kinova is a Canadian company engaged into the design and manufacture of innovative solutions in the field of personal robotics. The team of experts at Kinova is dedicated to offer practical robotic platforms solving real and concrete problematic of daily life, especially in rehabilitation. Building on its success, Kinova intends to pursue and further its research and development of products designed to make life easier for individuals by offering a wide range of unique and innovative personal robotic solutions. Visit Kinova Robotics at www.kinovarobotics.com.
About Clearpath Robotics
Clearpath Robotics, a global leader in unmanned vehicle robotics for research and development, is dedicated to automating the world's dullest, dirtiest, and deadliest jobs. The Company serves leading researchers in over 30 countries worldwide in academic, corporate and military environments. Recognizing the value of future innovation, Clearpath Robotics established Partnerbot, a grant program to support university robotics research teams, internationally. Clearpath Robotics provides robust solutions that are engineered for performance, designed for customization, and built for open source. Visit Clearpath Robotics at www.clearpathrobotics.com.
Featured Product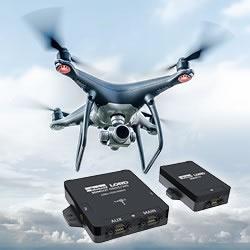 The C-series high performing inertial sensor package provides an OEM form-factor that is optimized for size and weight in Off Highway, Unmanned Ground Vehicles/Mobile Robots and Unmanned Aerial Systems. It's compact and low-profile anodized aluminum housing can be connected directly to a printed circuit board using a UART header or a Samtec FFSD ribbon cable and 2-56 fasteners.