Nearly 100 new makers to exhibit at The Henry Ford for this year's event.
Dearborn, Mich. July 15, 2013

On July 27-28, more than 400 tinkers, hackers and inventors will make their way to The Henry Ford for the fourth annual Maker Faire Detroit. Recognized by both the State House and Senate as Maker Faire Detroit Weekend in Michigan, this two-day festival will feature a little bit of everything for the whole family from baseball pitching robots, flame shooters and animatronics to mega-sized board games, remote controlled hot air balloons and handmade crafts.
Nearly 100 new makers will be making their debut this year including the University of Michigan Mars Rover team, Sterling Heights resident Chris Prout and his Eggcellent Eggbot Experience, the Weird Sisters Circus from Madison Heights, Ben's Encore Science of Sound from Detroit and the Glass Academy from Dearborn. Guests will also get a chance to see items from The Henry Ford's own collection including the kitchen sink engine and the Quadricycle as part of Henry Ford's 150th birthday celebration.
Maker Faire Detroit favorites returning for 2013 include The LifeSize Mousetrap, EepyBird with Coke and Mentos, and making its final Maker Faire appearance, the fire-breathing art-car dragon Gon KiRin. Along with entertainment, guests will also have a variety of culinary delights to choose from including a selection from The Henry Ford's award-winning culinary team.
Guests wanting the ultimate Maker experience can download the Maker Faire Detroit App for information on exhibiting makers, daily schedules and maps. Built by event sponsor Compuware, the Maker Faire App is available for download through the iTunes store. Additionally Compuware's Professional Services Division will host a "Hack the Museum" event during Maker Faire Detroit. The "hackathon" will feature 25 teams in a one-day design and development challenge as they create applications that combine The Henry Ford's digital collection with other mobile, digital and social elements. No entry fee is required to compete and participants will receive a free one-day ticket to Maker Faire Detroit. Teams can register for the event at http://hackathon.makerfairedetroit.com/.
Ticket prices for Maker Faire Detroit are $28 for adults (13-61), $19.00 for youth (5-12), and $26 for seniors (62+) and can be purchased now. Children 4 and under are free. Members of The Henry Ford receive 50 percent off admission to Maker Faire Detroit. Shuttle service to Maker Faire is sponsored by the University of Michigan-Dearborn and is available at the Fairlane campus located 19000 Hubbard Dr in Dearborn. For more information, visit our website at http://www.makerfairedetroit.com or like us on Facebook at http://www.facebook.com/makerfairedetroit.
Maker Faire Detroit is independently produced by The Henry Ford in collaboration with Maker Media. Maker Faire Detroit is sponsored by Ford Motor Company Fund, Compuware and Pure Michigan.
About The Henry Ford
The Henry Ford in Dearborn, Michigan is an internationally-recognized cultural destination that brings the past forward by immersing visitors in the stories of ingenuity, resourcefulness and innovation that helped shape America. A national historic landmark with an unparalleled collection of artifacts from 300 years of American history, The Henry Ford is a force for sparking curiosity and inspiring tomorrow's innovators. Nearly two million visitors annually experience its five attractions: Henry Ford Museum, Greenfield Village, The Ford Rouge Factory Tour, The Benson Ford Research Center and The Henry Ford IMAX Theatre. A continually expanding array of content available online provides anytime, anywhere access. The Henry Ford is also home to Henry Ford Academy, a public charter high school which educates 485 students a year on the institution's campus. For more information please visit our website thehenryford.org.
About Maker Media
Maker Media is a global platform for connecting makers with each other, with products and services, and with our partners. Through media, events and ecommerce, Maker Media serves a growing community of makers who bring a DIY mindset to technology. Whether as hobbyists or professionals, makers are creative, resourceful and curious, developing projects that demonstrate how they can interact with the world around them. The launch of MAKE Magazine in 2005, followed by Maker Faire in 2006, jumpstarted a worldwide Maker Movement, which is transforming innovation, culture and education. Located in Sebastopol, CA, Maker Media is the publisher of MAKE Magazine and the producer of Maker Faire. It also develops "getting started" kits and books that are sold in its Maker Shed store as well as in retail channels.
Featured Product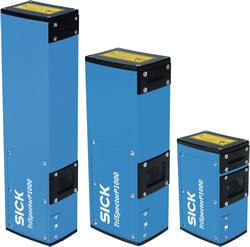 LiDAR (Light Detection and Ranging) is one of the most reliable methods for parts sensing in factory automation today. SICK has made this technology affordable and easy to use! Click on the video link below to learn about the TiM1xx LiDAR sensor and how it provides: - Area scanning LiDAR technology in a standard sensor package - 200-degree field of view and 3 meter sensing range allows for 169 square feet of area scanning - Compact size and light weight enables ease of deployment in "non-standard" type applications, like end-of-arm robotic tooling - Wide area scanning without having to mount a transmitter and receiver makes installation much easier - IO Link for easy configuration