Advanced, ergonomic controller utilizes HRI's proprietary SafetySenseTM technology
PHILADELPHIA--Humanistic Robotics, Inc., (HRI) a robotics and technology innovator dedicated to making the world safer through engineering and design, is pleased to announce the official release of its Safe Remote Control System for purchase. HRI is also pleased to announce its first customers for the remote control - the robotics engineering program of the University of Pennsylvania, as well as California-based robotics developer 5D Robotics. Penn will use HRI's controller on a range of advanced robotics programs under development, while 5D Robotics will be incorporating HRI's controller into unmanned ground vehicle programs serving the U.S. Army.

Learn more about the Safe Remote Control System (http://humanisticrobotics.com/products/safe-remote-control/).
HRI's Safe Remote Control System is a wireless handheld controller that achieves much more capability than a traditional "belly box" controller or military control console, in a lightweight and ergonomic package that the user can comfortably interact with during an entire day. In form, the handheld device looks like the controllers employed in typical video game systems, but houses much more. It's a rugged device, water, shock and dust resistant, containing a myriad of safety devices that are far more advanced than most control interfaces - even those that are much larger. It's a form factor very familiar to younger users, requiring nearly no training, and quickly learned by more experienced operators.
"This is a major step forward for our company, but also for the safety and comfort of our military and commercial customers worldwide," noted Samuel Reeves, co-founder and President of Humanistic Robotics. "Our goal has always been to use our technology portfolio to improve safety, comfort, efficiency and precision for the end user."
Maneuvering physically large systems in high-stakes, safety-critical tasks with a powerful, ergonomic and easy-to-understand handheld device, the Safe Remote Control System can be customized or retrofitted for jobs that are dull, dirty, dangerous or difficult to do with little visibility. Designed for remote standoff, an operator can use the system to operate industrial and military machinery, such as unmanned ground and aerial vehicles, mobile cranes, drilling rigs, concrete pumps, emergency vehicles, and forestry, mining and construction equipment, while keeping efficiency and safety at the forefront and staying out of harm's way. In fact, SafetySenseTM technology means that large equipment can be manipulated smoothly in crowded wireless environments.
"The Safe Remote Control System features a variety of interfaces with a feedback loop, LCD display and vibratory action," said co-founder Josh Koplin. "It's lightweight and fits naturally in an operator's hand - but is advanced enough to shut itself down automatically if dropped and its hardware-based system monitor ensures there is no single point of failure."
With customizable startup and retrofit features, the System includes an active emergency stop, a GPS for operator localization, ability to operate in both warm and cold temperatures, variable sensitivity controls and the capability to handle multiple operational modes and switch between multiple receivers.
"The identification of gaps in safety is at the very core of what we do," said Koplin. "We first wanted to identify the threat we're trying to mitigate - in the case of robotics it's the danger of being too close to a large machine that can malfunction or be used improperly and cause damage or injury. We've designed layers of safety at every level of the System, and we've borrowed techniques from industries where technology can't fail, like implantable medical devices. We strive to holistically, scientifically mitigate threats through technology."
Those threats have kept Reeves and Koplin hard at work since founding the company in 2004. Starting with landmine and pressure-sensitive improvised explosive device (IEDs) detection, and a client list that includes the U.S. Army and United Nations, Humanistic Robotics is known throughout the peacekeeping world for its innovative, user-centered approach.
"Our core priority is to make the world safer through smart engineering," said Reeves. "The products we are now offering and rapid growth are proof of that - and we're always looking for sales representatives and partners to help move that forward."
For more information on Humanistic Robotics or their product offerings, please visit the Humanistic Robotics website (http://humanisticrobotics.com).
Featured Product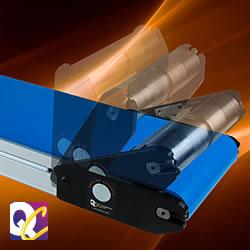 AS40 Conveyors are designed for ease of use and simple integration with robotic applications. Built on a rigid aluminum frame, they feature tee slots for rapid accessory mounting and a tail that flips up at the push of a button for easy under-belt cleaning and belt changes. Nosebar tails are available for transferring small parts between conveyors. All conveyors include a 10 Year Warranty and most are available with a fast five day lead time.