The stronger model handles up to 100 cycles per minute, featuring the smallest footprint of all Delta robots with payloads greater than 3 kg
AUBURN HILLS, Mich. (July 24, 2013) - ABB Robotics has added an 8 kg model to its IRB 360 FlexPicker line, supplementing the existing 1 kg and 3 kg models and expanding the high speed picking and packing performance of the most widely used Delta robot in the industry to heavier items. With over 5,000 worldwide installations since 1997, the FlexPicker has been the leader in state-of-the-art picking and packing technology, providing greater flexibility and versatility than hard automation. The 8 kg version of the IRB 360 robot has been re-engineered to handle higher payloads and improved pick-and-place performance. The new design includes a redesigned carbon fiber arm-set, a new delta plate designed to handle larger weights and inertias, and improved motion tuning. The new 8kg unit also features a deeper (350 mm) work envelope than the other 1130 mm reach FlexPicker models.

"The 8 kg FlexPicker provides a robust solution for handling larger individual products, and, in multi-product pick applications, more products can be handled per cycle," said Rick Tallian consumer products segment manager, ABB Robotics, North America. "This new model will provide our customers a wider range of high speed picking robots and improve the overall productivity of the robotic system. For specific applications, such as picking and placing flow wrapped products into cartons, the IRB 360 8 kg version has the ability to handle up to 500 products per minute."
The upgrade expands the IRB 360 FlexPicker's other existing advantages, such as a hygienic design for wash down applications, and superior conveyor tracking performance, including tracking high speed indexing conveyor belts.
The ABB FlexPicker is designed for operation in sanitary environments, and the stainless steel IPK69 rated model withstands the most stringent cleaning operations associated with sanitary product handling. Multiple variants of work envelopes (800, 1130 and 1600 mm), payloads (1kg, 3kg and 8 kg) are available, all with environmental protection options to meet most application requirements.
In addition to handling flow wrapped products, the IRB 360 FlexPicker is ideal for the direct picking and placing of unwrapped food products and pharmaceuticals into primary wrappers; loading meat products into trays; and kitting of personal care products and medical devices into blister packs. ABB's PickMaster3 software can be utilized for many of these applications, integrating advanced vision guidance and inspection capabilities to the process.
About ABB
ABB (www.abb.com) is a leader in power and automation technologies that enable utility and industry customers to improve their performance while lowering environmental impact. The ABB Group of companies operates in around 100 countries and employs about 145,000 people.
About ABB Robotics
ABB Robotics (www.abb.com/robotics) is a leading supplier of industrial robots - also providing
robot software, peripheral equipment, modular manufacturing cells and service for tasks such as welding, handling, assembly, painting and finishing, picking, packing, palletizing and machine tending. Key markets include automotive, plastics, metal fabrication, foundry, electronics, machine tools, pharmaceutical and food and beverage industries. A strong solutions focus helps manufacturers improve productivity, product quality and worker safety. ABB has installed more than 200,000 robots worldwide.
Featured Product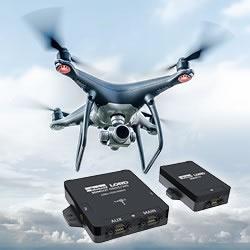 The C-series high performing inertial sensor package provides an OEM form-factor that is optimized for size and weight in Off Highway, Unmanned Ground Vehicles/Mobile Robots and Unmanned Aerial Systems. It's compact and low-profile anodized aluminum housing can be connected directly to a printed circuit board using a UART header or a Samtec FFSD ribbon cable and 2-56 fasteners.